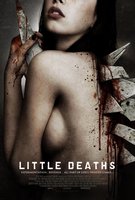 Overview
---
Genre
Thriller, Horror

Release Date
March 11, 2011 (SXSW Film Festival)

Duration
90 min.

Studio
Revolver Entertainment


Cast and Crew
---
Director
Sean Hogan, Andrew Parkinson, Simon Rumley
Producer
Samantha Wright
Screenwriter
Sean Hogan, Andrew Parkinson, Simon Rumley
Starring
Daniel Brocklebank
Christopher Fairbank
Siubhan Harrison
Amy Joyce Hastingsm
Luke de Lacey
Story
---
House and Home: A couple pose as religious do-gooders in order to lure homeless girls into perverted sex games. But after ensnaring their latest victim, the pair find the rules of the game have changed.
Mutant Tool: A recovering drug addict unwittingly stumbles upon a bizarre black market narcotics trade, in which mutated human semen is harvested for its powerful psychic effects. But supplies are running low...
Bitch: Claire and Pete are locked together in a destructively sadomasochistic relationship. But when Claire finally goes too far, her hitherto submissive partner decides to bring the bitch to heel for good.
Pictures
(1 photo)
---