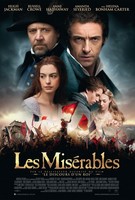 Overview
---
Genre :
Drama, Musical
Release Date :
December 25, 2012
MPAA Rating :
PG-13
Director :
Tom Hooper
Starring :
Russell Crowe
,
Hugh Jackman
,
Anne Hathaway
,
Amanda Seyfried
,
Helena Bonham Carter
,
Eddie Redmayne
,
Sacha Baron Cohen
,
Aaron Tveit
, George Blagden,
Samantha Barks

REVIEWS RATE: Critics Readers [Rate It]
Reader's Reviews
---

It sucked
posted by

Derek

on Apr 26, 2013 10:40:30

The best movíei of 2012!!!!
posted by

Luisa Monteiro

on Feb 25, 2013 10:39:46

I loved the movie so much and was so excited to get the soundtrack. I was quite disapointed to find some of my favorite songs missing from the soundtrack though. I hope they will release a new soundtrack in future that has everything.
posted by

Big Fan

on Feb 02, 2013 08:15:40

It was amazing!!!!!!
posted by

Les miserables

on Jan 31, 2013 04:36:59

outstanding
posted by

pickwickian

on Jan 30, 2013 11:56:18

OMG THIS FILM IS ABSOLUTELY AMAZING!! THERE ARE NO WORDS!!
posted by

FilmLover187

on Jan 30, 2013 01:09:58

One of the best films I have ever seen. Acting was superb, music was fabulous. Cannot wait to buy the DVD. Do not miss it
posted by

Les Miserables

on Jan 29, 2013 11:43:19

Formidable!!!
posted by

AB1605

on Jan 28, 2013 08:21:37

The characters were portrayed by well-loved actors who can sing incredibly and they are just... perfect!
posted by

Eswaiee

on Jan 24, 2013 04:59:43

I luv this moive i wish anther song was on the album called do you hear the sounds
posted by

Les mis

on Jan 22, 2013 10:52:48

Most 12 year old boys would hate this film. Not me, best film I've ever seen in my intire life. If I could I would see it a million times over and over again. I went to go and see the show in London and absolutely hated it until I came home and listened to the music. I absolutely love it now and have already got the CD on my IPod. If there is anyone out there who can not be bothered to go and see it or think that they are going to hate it. Give it a chance and you mite be surprised. At first before the show I was sure I wouldn't like it but now I've found something I really love in life. Go and see this film you might be surprised.
posted by

Sammy yay

on Jan 21, 2013 03:52:40

EXCELLENT!
posted by

hugh jackman

on Jan 20, 2013 01:47:31

Its awesome...
posted by

tamu

on Jan 15, 2013 12:13:51

Well made but rather too long especially for those who can sit for long.Nevertheless I enjoyed and so were the other patron's who clapped when the movie ended.
posted by

AnneG

on Jan 09, 2013 04:57:57

This movie was outstanding. They took a stage play &turned it into a beautiful & very moving motion picture. It was excellent.
posted by

laners

on Jan 05, 2013 10:54:12

This movie is absolutely magnificent!! Almost everything's perfect, IMO. What pilfers me is the soundtrack: the lack of "Do you hear the people sing". What happened? Did they deem it not a highlight? Such a good performance and it's not a highlight? Heh...
posted by

BigLord

on Jan 04, 2013 08:50:40

This motion picture was positively phenomenal, and though the sound track is(of course) missing a few numbers, I have every intention of owning it!
posted by

A-rie

on Dec 30, 2012 10:46:58

Unbelievable! Amazing acting and singing, I cried the whole time! Loved it
posted by

Jedigirl

on Dec 29, 2012 02:40:21

Loved it!
posted by

Karyl2

on Dec 28, 2012 05:09:03
Brilliant! Long overdue - incredible songs and deep emotion like this will never date. I only hope it does the musical justice.
posted by

Portland42

on May 30, 2012 12:03:56
---Standard, decades stale retreads, as the Globalist RED China TREASON OP swallows Australia ---whole.
posted by

Ymus Anon

on Sep 26, 2011 06:04:28