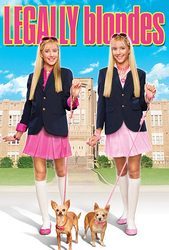 Overview
---
Genre :
Comedy
Release Date :
April 28, 2009
Director :
Savage Steve Holland
Starring :
Curtis Armstrong, Becky Rosso, Brittany Curran, Bobby Campo,
Chloe Bridges
, Christoph Sanders, Tanya Chisholm

REVIEWS RATE: Critics
N/A

Readers

[Rate It]
Reader's Reviews
---
OMG!this is the best move ever in whole world and i hope they make the next one the same as this one and it must have the blond girls in it so good luck
posted by

LOSER

on Oct 30, 2012 11:23:47

the movie starts out well as well as the ending.
posted by

Amy

on Oct 30, 2012 11:20:49

Legally Blonde 3 is a really funny relaxing film which we really enjoyed watching.
posted by

.................

on Aug 25, 2011 02:01:38

sorry but this is movie is crap reese witherspoon isnt in it and the two blonde poms arent funny I dont even get the funny side of it maybe its because im an aussie and dont understand pom jokes but sorry its crap but reese witherspoon back on as elle and not have those poms in it I loved the other legally blonde films because they were funny and because it had reese witherspoon and she is a good actor so please do another legally blonde 4 but please, please bring reese back its crap without her.
posted by

bad movie

on Oct 24, 2009 03:45:58

no it's milly and becky russo and i want to find out when it comes to dvd
posted by

Legallyblonds1994

on Aug 18, 2009 08:40:55
no that is called legally blondes this is different
posted by

courtneyyy

on May 30, 2009 01:09:52

The movie is so cool! It is not starring reese witherspoon, but two very elegant young english girls. It is much better than the first two.
posted by

Claire

on May 16, 2009 11:20:58

I also hope they dmake Legally Blonde 4 as well in either 2010 or 2011 and that will be even more great if they make a fourth sequel
posted by

Legally Blonde 3

on Apr 21, 2009 02:25:34

like wow it sounds totally amazing I really hope Reese Witherspoon is going to still star as Elle Woods I really seriusly do I mean it. and my fave Legally Blonde Film has got to be definat;y Legally Blonde 1 because it's soooo funny and heart warming it really is. but I also love all of the other legally Blode films as well
posted by

Legally Blonde 3

on Apr 21, 2009 02:23:38