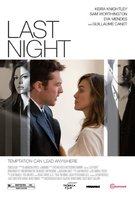 REVIEWS RATE: Critics Readers [Rate It]
Reader's Reviews
---
Tyrone: So Long, Lonesome by Explosions in The Sky
posted by

Robin

on May 03, 2011 04:23:48
@aw Thank you very much
posted by

Kole

on May 01, 2011 03:12:09
Keira listens to a song by Shilpa Ray and her Happy Hookers
posted by

aw

on Apr 30, 2011 03:38:12
@Stef: Thank you VERY much, I found it :) Clint Mansell & Peter Broderick - Not At Home. A SUPERB piece!
posted by

Rolln

on Apr 27, 2011 03:29:38
Does anybody know the background piano music that was playng where kier knightly and Guilliame Canet? spend the night together and kissed outside during the new york morning
posted by

Tyrone

on Apr 26, 2011 09:09:40
i think it´s a great movie i love the idea of how the director plays with your mind like it almost gonna happend something but then sorprise you. it´s different of where use to in the class movies of this subject
posted by

k31er

on Apr 26, 2011 06:31:19
Which song Keira listens on her headphones in the movie...
posted by

Kole

on Apr 22, 2011 01:03:42
The soundtrack is by Clint Mansell ;) hope i could help u.
posted by

Sahnii

on Apr 16, 2011 02:12:09
Beautiful movie with great cast. And also I'm looking for the soundtrack ;)
posted by

Stef

on Mar 16, 2011 07:45:42
I want the soundtrack too, but i don't think it's come out yet. I guess we're just gonna have to wait.. :/
posted by

liska

on Jan 09, 2011 12:57:04
I'm searching for the soundtrack too...)) rrr... where is it??!!..)))
posted by

from Russia with lov

on Jan 09, 2011 05:47:55
I'm searching for the soundtrack.. please help. :)
posted by

..

on Jan 08, 2011 07:10:46
when is the date that its coming out to the movies
posted by

BackSboysFan

on Jun 13, 2010 05:03:09
sdcfw
posted by

asxda

on May 10, 2010 04:30:00

bc46Wo
posted by

Cjkbtzqr

on Jul 13, 2009 10:28:23

NXTF9L
posted by

Jhzbcifa

on Jul 13, 2009 02:22:15