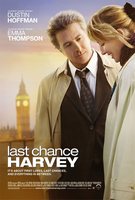 REVIEWS RATE: Critics Readers [Rate It]
Reader's Reviews
---

Why to die? It was very good movie about two people above 45 who find love... Age makes no difference :) Love is everywhere.Isn't it great?
posted by

:)

on Feb 07, 2010 04:29:18

this would be a 5, but (this may sound cruel), i really think this would be better if hoffman died in the end. it would break your heart and that could have been a good thing. still a great movie, though.
posted by

rdog

on Oct 16, 2009 07:27:25

When will the sequel released?
posted by

last chance harvey

on Aug 25, 2009 03:15:42

This was a great movie, It made me think about my own Wedding, my daughter and how important she is to me, the pain of abortion long after having it, the deep desire for love and the fear of letting yourself want to fall in love. I was surprised how much I enjoyed it. You will too
posted by

MArco

on Jul 24, 2009 03:23:10

nice to finally see a film that focuses on the characters...without violence and sinning
posted by

last chance harvey

on May 10, 2009 11:02:40

touching!
posted by

Last Chance harVey

on May 06, 2009 05:21:46

This is a simple, touching love story. I could so relate to the characters...which is why I just adored it from beginning to end!
posted by

Last Chance Harvey

on May 01, 2009 10:15:01

so nice!
posted by

last chance harvey

on Apr 25, 2009 08:51:10

a movie... with an ordinary luv story, i mean two persons they fall in love, there are problems they got separated but finaly, they live happy for ever. but exelent acting, and a great sound track
posted by

dafer

on Mar 27, 2009 12:04:33