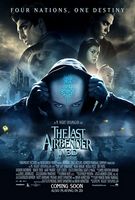 Overview
---
Genre :
Adventure, Action, Sci-Fi
Release Date :
July 01, 2010
MPAA Rating :
PG
Director :
M. Night Shyamalan
Starring :
Noah Ringer
,
Nicola Peltz
,
Jackson Rathbone
,
Dev Patel
,
Cliff Curtis
, Shaun Toub, Jessica Andres,
Seychelle Gabriel
,
John Noble
, Aasif Mandvi, Keong Sim

REVIEWS RATE: Critics Readers [Rate It]
Reader's Reviews
---

@JJJ Yes this movie deserves all the hate it's getting from fans, you retard. And that goes for the rest of you retards!
posted by

Rico89

on Jun 21, 2013 11:39:00

OK, why do people here overrate movies, especially the bad ones? Don't you people know when you're watching a bad movie, or do you just have bad taste? This movie swept the Razzies for a reason. M. Night Shyamalan should be banned from making movies for life.
posted by

Robert W

on Jan 22, 2013 12:12:53

*Lady in the Water.
posted by

John

on Oct 19, 2012 12:55:13

How the hell did this get so many 4 and 5 star reviews? This is the worst film of 2010. Are the people here really stupid? The first warning sign is that it was directed by M. Night Shyamalan. Does anybody remember Lady in the Lake? Or how about The Happening, the movie about killer trees? If you like bad movies, then this is right up your alley.
posted by

John

on Oct 18, 2012 12:26:37

awsm
posted by

sandy

on Nov 03, 2011 01:31:40

Very decent movie. Doesn't deserve all of the bad criticism fanboys preach
posted by

JJJ

on Feb 15, 2011 02:19:10

that movie roxs!!!love it....there oni one thing that i not happy with...its the way they pronounced the name...that suxs....y does m.night shyamalan have to mess with it!!!
posted by

zatty

on Dec 16, 2010 04:21:51

I happen to love the movie. I think M. Night Shamalan did a phenomenal job. We have watched the cartoon over the years. Yes there were distinct differences. But that's what is called poetic license. I love his interpretation of the Avatar, The Last Air Bender.
posted by

drgolfjim

on Nov 30, 2010 02:40:22

Love it!
posted by

Star

on Nov 22, 2010 08:08:59

thanks a lot love it
posted by

twilight

on Oct 28, 2010 11:13:43

thanks a lot it's great love it
posted by

twilight

on Oct 28, 2010 11:12:59

It was cool & funny
posted by

Tahmid

on Sep 14, 2010 01:49:22
all the people who said it was bad u suck its avatar if the cartoon is good then the movie should be
posted by

rockstarr2.0

on Sep 06, 2010 09:06:32

i take those other comments back it was awsome
posted by

bball

on Sep 05, 2010 01:38:37

owsome......... nice picture i like it....
posted by

kevin

on Aug 21, 2010 07:59:39

I give this movie a 2 out of five for a few reasons. I am a huge fan of the animated series. The best part of the movie was the graphics, a few things on that tho. there were some scenes when they were doing bending moves and nothing was happing. no matter what there should have been something going on even if they say he was having trouble with it. Also fire benders have the ability to conjure fire from nothing. The movies take on it made fire benders look weak. Then there was the earth bender scene. Absolutly pathedic. You wouldnt imprison a fire bender ( with the movies point of view.) with torches in his cell. nor a water bender with buckets of water, why would you think a prison surrounded by earth could hold earth benders. also the was the scene where you see six earth benders preparing to bend and a rock to bigger than a basket ball floats into view. Also the name swap was retarded Aang to Ong. and sakka to sokka avatar to aavatr. M.Night Shamalan destroyed this movie. If nickelodian allows another movie to be made dont be surprised not to find his name on it. another thing the casting and or acting on the role of sakka was horrible. Sakka is witty and a comidic genius. this charater was far from that. if you like the cartoon and are intrested to see what water and air bending should look like. ok maybe fire too. check the movie out. earth bending sucked
posted by

captain420

on Aug 18, 2010 02:17:34

i agree with avatarrox
posted by

bball

on Aug 01, 2010 07:01:28

boo
posted by

bball

on Aug 01, 2010 01:19:52

This movie was AWESOME! I will be getting it on DVD when it comes out.
posted by

KingAce

on Jul 15, 2010 01:41:24

The movie was outstanding! Great story line, linked well with the cartoon series. Highly recommend!
posted by

Warlord

on Jul 13, 2010 07:41:23

I myself thought it was a very good movie that followed the cartoon
posted by

sarah564

on Jul 12, 2010 09:15:58

Thought it was a good movie, loved all the actors
posted by

Brie

on Jul 12, 2010 04:58:50

best movie ever hope they make more. aang is so cute i love him
posted by

sassytiger

on Jul 11, 2010 11:40:40

best movie ever hope they make more. aang is so cute
posted by

sassytiger

on Jul 11, 2010 11:40:07

holy crap it was amazing!!!!
posted by

mike3

on Jul 05, 2010 04:35:56
I LOVE AVATAR
posted by

avatarsBIGfan

on Jun 23, 2010 08:38:55
can wait for the movie!!!
posted by

azula101

on Jun 22, 2010 09:50:32
i can't wait for this movie! hopefully it'll be epic. and hopefully it beats eclipse in the box office.
posted by

Spike

on May 14, 2010 08:39:26
PS: I AM THE BIGGEST AVATAR FAN IN THE WORLD! I HAVE WATCHED THE SERIES A MILLION TIMES!!!
posted by

avatarfan

on Apr 18, 2010 08:40:54
i am so happy they are going to make this into a movie, it's my favorite tv show ever! So far, i am very happy with it, other than the fact that Aang is now pronounced "ong", Iroh is pronounced "eeroh", Sokka is pronounced "sewka", and last but not least, Avatar is pronounced "of-avatar". That makes me kinda pissed. Why did Shyamalan have to mess with the names?!
posted by

avatarfan

on Apr 18, 2010 08:39:00
This movie looks awesome, but Im a little scared of what M. Night Shyamalan is goin with the movie like I hope he doesnt end the whole story in one movie and remember the happening it looked good and come to find out the movie sucked, but it was a little funny when they all walked off the building. Im getting off the point, but all im saying is I hope M. Night doesnt screw the avatar over.
posted by

ItsaCombatxCarl

on Apr 15, 2010 10:02:11
OMG! The Last Airbender is such a cool movie i think, can't wait july! but i think dev patel is not really look like zuko
posted by

Youknowme

on Apr 02, 2010 11:52:45
OMIGOD!! It'ss finally here!!! I've seen every epidoes of dis show and now its a moviee!!! untimate fan right heree!!! watch out!
posted by

ATLAfan!!

on Mar 25, 2010 07:32:36
For all ya ATLA fans, i'm afraid to disapoint ya all buta I'm the biggest fan ofthe show and you ask me any question from the show and I can answer right. I'll be the first one in front of the doors of the movie theaters,bcuz i'm campin' out there. like a real AVATAR FAN WILL DO! HOLLA @ YA BOY!
posted by

J3

on Feb 22, 2010 12:41:37
I cant wait to see this acton packed movie. All the animation is driving me crazy but this is in person.
posted by

Lexi

on Feb 22, 2010 04:25:29
dear, what are you doing aang if you love me or not txt me i will give you my number and it is 812-340-7991 thats my number for you aang
posted by

zimfans

on Feb 13, 2010 08:49:33
i love you aang you are so so so cute i will date you for the rest of your life by: Laura Emmons
posted by

zimfans

on Feb 13, 2010 08:47:15
Hey angs luva(I love him more! lol!)I agree...as soon as i found out this isn't even part of the show..and the directer changed Everything i was like*Dun,Dun,Dun!* NOOOO! lol! I'll see it, even though its not what its supposed to be, and what we expected cuz i'm a fan...but i hope its atleast descent.cuz i've been having doubts about this movie and the director, and if i see it and its compleatly crappy i have a feeling we're all going to be starting a riot lol! but i hope its good, AND Has Kataang! cuz that will make up for everything!
posted by

Kataang101

on Feb 11, 2010 05:36:11
Ok im a tad disappointed with the cast but ill give them a chance. and if they disappoint me ill cry. print out a picture of the director and shoot flaming arrows at him. btw AVATAR IS FANTABULOUSNESS. its so cool i had to make up a new word to explain it.
posted by

soniya009

on Jan 30, 2010 05:20:01
Btw avagirl ur wrong I AM THE BIGGEST FAN IN THE WORLD
posted by

Angs Luva

on Jan 24, 2010 03:40:31
Hey sloop guy it matters about the race! If u don't think that then ur not a real fan so shut up! The movie won't be as good as the show. The director took out all of the funny stuff. Sokka isn't gonna be funny either. In the trailor they don't use the real nation symbols. I'm gonna see the movie cuz I'm a fan but I know it won't be that good.
posted by

Angs luva

on Jan 24, 2010 03:36:46
I have a Song for Avatar on you tube,com/saiforce, lets put it on the soundtrack
posted by

saiforce

on Jan 16, 2010 07:18:02

I wonder if the first movie is Book 1 and there might be 3 more movies!!!!!!!!!!
posted by

Seahawk851

on Jan 05, 2010 10:00:16

It is going to be awesome. I want to see it on opening day. Ithink the triler is before aang is frozen for 100 years. Sweet!!!!
posted by

Seahawk851

on Jan 05, 2010 09:57:03

How sick is the trailer?!! Enough with the race card for these actors! Noah Ringer clearly isn't white - check the pic! So we got a couple of little white kids to play the bro and sis - so what?! She's got blue eyes in the show! RELAX! And we got Dev Patel, Mandvi, Cliff Curtis... oh my god, Dev Patel isn't from the Fire Nation! Enough! Honestly, this has great potential. Plus Shyamalan has great direction in his films. Give it a chance. You gotta have faith in M.Night.
posted by

Sloop

on Dec 18, 2009 06:11:55

Cool!
posted by

firecrown

on Dec 15, 2009 05:33:03

I am the biggest avatar freak in the world! I am totally excited!
posted by

Avagirl

on Dec 05, 2009 08:51:44

i like it suuuuper!!! love all the characters and the story itself..superb!
posted by

bryan echi

on Dec 04, 2009 09:59:10

I wish it came out sooner but im not going to cry like you other stupid babies i cant wait like a man.
posted by

cakeman

on Nov 04, 2009 11:37:49

very good
posted by

ruko

on Aug 29, 2009 04:22:39

Cant wait for this movie to come out its gonna be the best!!! But are they gonna have tophe?
posted by

avatar

on Aug 26, 2009 07:12:55

I will personally not watch this movie. As for all of you going for the hot "vampire" white guys, i with you and your hypocrisy good luck. I would rate lower than one star if I could. Want to know what I'm talking about, watch the cartoon. Still don't get it? Look up the words "Aang Aint White" and neither is Katara, Zuko or Sokka. Peace Out
posted by

AvatarRoX

on Jul 15, 2009 10:43:02

cant wait been a fan since the show came out so far the airbending is looking good and i am sure it is going to be way better than dragonball
posted by

avatar 101

on Jul 04, 2009 03:09:36

I personally am a huge fan of Avatar, and i am very excited. But one thing: whats appa and momo gonna look like?
posted by

eh1

on Jul 02, 2009 11:52:44

Wow!!!!! Im excited. I hope it comes out right and its not al messed up. I LOVE Sokka!!!!!1
posted by

Raven

on Jun 28, 2009 12:39:24

dudeeeeee!!!!!! im exitedddd
posted by

lolo

on Jun 14, 2009 08:39:25

totally excited!
posted by

ness

on Jun 05, 2009 11:25:37

personally, i dont like these kinds of movies, but i will be sooo gushing abot this movie cuz it has the hottest twilight star jackson rathbone in it. can somebody post wat these movies are actually about, is it like fighting stuff? wat is it rated? it looks awwwwwwwsome!
posted by

courtneyyy

on May 30, 2009 01:03:54

WOW...... i am sure that this film will be a blockbuster.... DEV PATEL.... wowowow great! Can't wait...
posted by

Zaara

on May 28, 2009 07:28:16
why zukoo dint look sexy and ahs the hair long if they r treatyn to doing the fist book they should put the tipical pig tail in zuko shaved head
posted by

o.o

on May 25, 2009 09:24:02

with the cast?the film can be completely disaster
posted by

kk

on May 24, 2009 12:10:11

woww...im gonna love thiss...i am a big fan of this cartooon.and now their doin' a movie...i cant w8 to watch this...2010? still far..
posted by

klentbracero

on Apr 18, 2009 04:58:43

i dont believe it!!!!
posted by

avatar

on Apr 16, 2009 06:00:21
fail! like dragon ball
posted by

onwed!

on Apr 08, 2009 06:51:37

I am so going to watch this movie! This is gonna be like Narnia because of all the special effects! And the Water Tribe actors gonna need a tan, and Dev Patel needs to bleach himself.
posted by

mikeedvd03

on Feb 23, 2009 06:09:49

this will be a hit for sure.. cant wait to see this movie.. hahaha,,,,.
posted by

evilazula

on Nov 12, 2008 08:27:42

this would be the best movie in this universe's history
posted by

rafcy

on Aug 12, 2008 00:00:00

I wanna watch this movie no matter what happens!!!
posted by

Seonjigo

on Jul 28, 2008 00:00:00

LMFAO!! I haven't seen Avatar: The Last Airbender on TV in a LONG time. I never seem to get to see it D: and now there's a MOVIE on it? LOL! Hahahahaha, that's cool. I hope they stay with the anime form, and not the full human form, because that would totally take away Aang's rep.
posted by

Oh My God...

on Jul 11, 2008 00:00:00

its gonna be the best movie ive eva seen in my whole entire lif!!!!!!!I miss dis den ima go cry in my room!
posted by

the last airbender

on Jul 04, 2008 00:00:00
hu is aang on da movie????? n.e how, its gna b epic
posted by

aang is alive

on Jul 04, 2008 00:00:00

i'm getting ready 4 our wedding aang !!!!!!!
posted by

jane 4 aang

on Jul 04, 2008 00:00:00

waaaaaaaaaaaa 2010?! I cannot wait!
posted by

avatar rulzzzzzzz

on Jul 02, 2008 00:00:00

its gonna be awesome!!!!!!!!!!!!!!!!!!!!!!!!!!!!!!!!!!!!!!!!!!!!!!!!!!!!!!!!!!!
posted by

weeeeee

on Jun 17, 2008 00:00:00