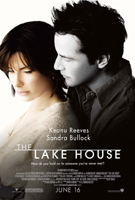 REVIEWS RATE: Critics Readers [Rate It]
Reader's Reviews
---

love this movie so much. Unique love story.
posted by

keandrahahah

on Aug 11, 2010 08:24:36

I have enjoyed this movie over and over. Intensly romantic.
posted by

Cp

on Jul 06, 2010 01:41:26

boring at times, great at others.
posted by

rdog

on Oct 16, 2009 07:23:47

I enjoyed the Lake House my kind of movie Grandma
posted by

Lake House

on May 22, 2009 07:53:03

A very good love story.
posted by

201dish

on Feb 20, 2009 07:14:15

Acredito se o filme mais terno que já vi nos últimos tempos. Adorei a simplicidade desse amor retratado com tanta sutileza.
posted by

Auxy

on Feb 19, 2009 02:57:17

i liked it alot <3 n it even made my sis cry ... believe me that's SMTH alright ;P NOW GO SEE IT :D
posted by on Aug 19, 2006 00:00:00

The best movie I've seen in a while. I wasn't sure how they would pull off a love story told two years apart, but they did. Great chick flick... and my fiancee said he liked it too. I reccomend this movie 100%.
posted by on Jul 05, 2006 00:00:00