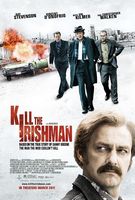 Overview
---
Genre :
Action, Crime
Release Date :
March 11, 2011 (Limited)
MPAA Rating :
R
Director :
Jonathan Hensleigh
Starring :
Ray Stevenson
,
Christopher Walken
,
Val Kilmer
,
Linda Cardellini
,
Vincent D'Onofrio
,
Vinnie Jones
, Paul Sorvino, Fionnula Flanagan,
Laura Ramsey
, Mike Starr, Jason Butler Harner, Robert Davi, Tony Lo Bianco, Steve Schirripa, Bob Gunton

REVIEWS RATE: Critics Readers [Rate It]
Reader's Reviews
---
This movie took 10 years to come to life. From all reports they will keep it in line with the events as they happened, but I am sure they will spice it up a bit. Still, alot of us are looking forward to this. In some Cleveland familys, Danny is a unknown. In others he is still talked about 30+ years later.
posted by

Cleveland Italian

on Dec 04, 2010 02:04:00
my uncle richie did time with danny's son. i really look forward to this movie because not many people know about danny greene, or even the cleveland mafia
posted by

O\'Rafferty

on Nov 24, 2010 07:06:38
What happened in the family stays in the family. Everyone else is a rat fink.
posted by

Joe Publicci

on Aug 29, 2010 02:55:23
If you are Italian and stay in Cleveland you no that there was a Mafia in Cleveland and still is trust me
posted by

the Italian

on Aug 23, 2010 01:13:25
Anxious to see how bad they butcher what really went on in Cleveland when it was a real city.
posted by

Michael B.

on Jul 16, 2010 08:00:53
Yes there was a mafia and I would know because Rick is my cousin and part of my fsmily was apart of the mafia. And my cousin is very lucky to have sold his book to hollywood. So for all you ppl who dont think there was ever a mafia of any kind you should guess again.
posted by

SnwbrdrXoXo7

on Jun 08, 2010 12:37:26
Don't like Val Kilmer as well, but he won't bring the movie down with all of the other wonderful actors. The last comment shows the type of fans Val Kilmer has.
posted by

mojo

on Apr 18, 2010 07:39:53
val kilmer will not bring the movie down fuck head
posted by

hjuikkk

on Mar 02, 2010 11:40:13
There is no Mafia, but if there was, this movie and the book by Rick Porello sure sheds a lot of light on it, if there was a Mafia.
posted by

Don Georgio

on Feb 20, 2010 10:17:25
KABOOM if he had not had a tooth ache who knows if and or when they would have gotten him
posted by

meathead

on Feb 16, 2010 01:58:39
This movies sounds great but Val kilmer is gonna bring this movie doww
posted by

RealIrish

on Feb 02, 2010 04:27:55
Few people know that Ohio was an Irish/Italian mafia hotbed for many years. This film will shed some light on that.
posted by

ARGYLE

on Jan 20, 2010 08:01:16

Can't wait till this movie comes out! Finally a movie about the mob in the Midwest, especially Cleveland!
posted by

jibaro

on Dec 26, 2009 11:25:28

i love movies like this and god bless the actors directors and whoever that made this movie
posted by

badass

on Nov 28, 2009 05:21:45