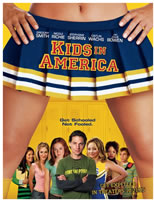 REVIEWS RATE: Critics Readers [Rate It]
Reader's Reviews
---

Let me say it is my absolute favourite movie it is sooo brilight i advise all teenagers to watch it it is fricken unbelievable how good it is
posted by

Megan

on Aug 15, 2009 12:23:12

one of the best movies i've ever seen! it is brilliant! and it makes a political statement. this movie pushes you to fight for what you belive in, and not to sit down watching other people force you to inspire lower instead of higher and by doing that they condemn you to mediocrity. this movie will make you stand up and shout, shout about everything that is twisted and wrong in our society! it shows that teenagers are powerful and that we don't care about the true meaningful subjects. i recommend this movie for anyone to see, you will not be dissapointed. after watching this movie you will feel like you too have the power to change 'da world! i can only hope that you will see the best of it as i did. yours truly stav
posted by on Jan 04, 2008 00:00:00

i meant: "it shows that teenagers are powerful and that we do care about the true meaningful subjecs"
posted by on Jan 04, 2008 00:00:00

like the poster above me this also was my favorite movie in all time. i work in a video store and one day i was going through the movies that not alot of ppl rent and i found this one. i it the best film i have ever seen. but i do not really care what other people say about it. everyone has thier own views on the movies they love.
posted by on Apr 08, 2007 00:00:00

this is the best movie i have ever seen. the people who dont agree with it just arnt right. it teaches us that we do have freedom and if people dont think we do. we can change it. even if somethings go wrong. we can and we wil change how much freedom we have.
posted by on Dec 23, 2006 00:00:00