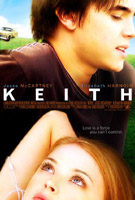 Overview
---
Genre :
Drama, Romance
Release Date :
April 11, 2008 (Palm Beach Int FF)
MPAA Rating :
PG-13
Director :
Todd Kessler
Starring :
Jesse McCartney
,
Jennifer Grey
, Elisabeth Harnois, Rachel Thorp, Rance Howard,
Margo Harshman

REVIEWS RATE: Critics
N/A

Readers

[Rate It]
Reader's Reviews
---

Wonderful movie
posted by

Abhi

on Mar 08, 2013 05:01:51

I sooo Love this movie...I cannot stop watching....I have been telling my friends to see it....Jesse & Elizabeth are amazing...Solid performance..& yes I cried everytime ...I miss Keith...wish they had more happy scenes together....
posted by

GGB

on Jan 24, 2012 10:30:39

This movie is the best. I so love Keith myself. Keith and Natalie are just perfect for each other.
posted by

Tracy

on Jan 13, 2012 06:30:22

One of the best movies I have seen. An amazing movie that will leave you heartbroken
posted by

Keith

on Jan 02, 2012 07:01:57

the best:)
posted by

Brielle

on Dec 01, 2011 10:23:14

this movie was amazing! i cried.. its so much like my life!
posted by

kaykay5799

on Sep 02, 2011 03:26:21

when you watch this movie, it feel as if the things are happening with you. is beautiful and painfully heart touching
posted by

tree2h

on Aug 22, 2011 10:36:07

I happened upon this movie last weekend and loved it so much I've watched it at least a dozen times. Jesse and Elisabeth are great! I can't wait to see Elisabeth in CSI! My husband was battling cancer and passed 2 yrs ago - this brought back memories! I feel like I'll miss Keith, too.
posted by

rncox

on Apr 30, 2011 06:55:56

I really love this movie, I cried so much at the end. Jesse McCartney and Elizabeth Harnois are both brilliant in this. I just want to watch it over & over
posted by

Keith

on Apr 26, 2011 06:01:50

BEST MOVIE I'VE EVER SEEN.
posted by

Paul

on Apr 17, 2011 08:06:23

THIS IS ONE OF THE BEST MOVIE I HAVE EVER SEEN CAN ANY ONE GIVE ME THE NAME AND SINGER NAME OF LAST SONG.................???
posted by

PRAJWAL GIRI

on Jan 01, 2011 11:41:57

This movie is AMAZING!! Only found it a few days ago and have watched it 3 times. Jesse is a great actor. It really touched my heart.
posted by

Noah

on Nov 29, 2010 11:03:57

Its not often that a movie comes along and makes you wanna fall in love..but this one has.
posted by

godsman

on Nov 27, 2010 11:49:35

This movie touched my heart
posted by

mandy

on Nov 19, 2010 10:51:30

cant forget such a great love story
posted by

avinash

on Nov 11, 2010 05:41:55

I can't get the music out of my head. It just makes me think about the movie.
posted by

Devon

on Oct 13, 2010 09:01:15

amazing,amazing and amazing music it's stuck in my head the heavy bass/guitar
posted by

fahad

on Sep 12, 2010 02:33:24

just kidding ehehehe
posted by

unknown

on Sep 02, 2010 09:25:15
this movie is perfect ...i cant beleive jesse mccartney can also act ....no offense...
posted by

unknown

on Sep 02, 2010 09:23:45

i have seen this movie many times. the first time i seen it i had never even heard of it but it had jesse mccartney in it, and who doesnt love him? so i rented it. it was, and still is the best movie i have ever seen. it makes me cry everytime i watch it. it never occured to me that he could play such an amazing role, who is, keith(:
posted by

cutiepie

on Aug 06, 2010 07:17:17

This movie is so amazing. It really hit home and I LOVED IT!
posted by

misunderstood

on Aug 03, 2010 12:02:18

The first time I watched this movie, never heard of it before.. It mezmerised me, to be honest. I crushed over Jesse, just insanity. It's never occured to me that he would ever play a person like that. But still, of course I will never know Jesse's real interests. Good job, over all.. It made me tear up both times. (: Quite a rollercoaster.
posted by

Bittersweet

on Aug 02, 2010 09:43:47

no words can describe this movie. it's just awesome. i can't believe the ending!!! keith...u rawk. jesse rawk <3
posted by

jmac4eva

on Jun 07, 2010 09:22:15

I LOVE this movie. it has been the best movie i have watched in a very long time. the storyline is beautiful and keith (jesse mccartney)is SO HOT !! the acting is very good especially by the lead elisabeth harnois. i really don't think this film got the acknowledgement it should have received. A very fine film indeed ! <3
posted by

AmiieeRawrr

on Jun 07, 2010 07:52:21

wat was the theme song? the heavy bass/guitar playin in the background - its totally stuck in ma head!!!
posted by

Ornie

on Apr 20, 2010 09:47:31

the movie was simple beautiful.
posted by

Ornie

on Apr 20, 2010 09:44:46
please,it would give someone the end of the song name?
posted by

dalmi.*

on Mar 16, 2010 09:53:19
GOD DAMN I LOVE THIS MOVIE!
posted by

darianstar1214

on Mar 16, 2010 06:08:14

I love this movie, i thought it would be boring and predictable. But apparently this movie was incredibly touching and unique. You'll like it!!!
posted by

megan

on Mar 16, 2010 06:07:25
jesssseeee!! tee aamo koraaszonn veen aa meexicoo (LLLL""!!!
posted by

karenlizbeth

on Mar 08, 2010 04:16:15

best movie i have ever seen! I loved it! Have watched it 4 times and just saw it today
posted by

Sucker for love

on Feb 01, 2010 06:32:34

one of the best movies of all time. it makes one think deeper into life and they people around one in it
posted by

movie watcher

on Jan 30, 2010 07:35:56

this is the coolest movie ever. I LOVE YOU JESSE AND I WANT TO SEE YOU !!!! PLEASE MAKE A CONCERT IN BULGARIA !!!! KISSES: GABBI
posted by

gabbi

on Jan 01, 2010 01:01:51

Amazing film, first because Jesse was in second the movie,I will say again, it's amazing film :)
posted by

jesse soul

on Dec 24, 2009 07:27:06

hi i love this movie it makes me forget about that bad and just wanna forget everything and just feel free
posted by

al0nna

on Nov 11, 2009 10:38:32

This movie, is one of the best movies i have seen. i find jesse macartneys character kieth so interesting and so secretive, and he would be just the type of guy you would love to try asnd figure out. The way he shows his affections and emotions is so different but beautiful. this movie bought tears to my eyes the way it shows that perfect people seem perfect but on the inside they are so confused. it puts across so many messages, and even though he went through all of what he did, he lived the way he wanted to, carefree. just beautiful.
posted by

Sammygirl.

on Oct 03, 2009 01:41:26

Great movie, it was a short story before it was made into a movie. If you loved this movie you should definitely read the book "Etchings in the Dead Wax" it is awesome!!!!
posted by

KR

on Aug 21, 2009 11:44:47

God it made me cry so much. The actress is so beautiful. But the guy acted very well. Every char* was believable.
posted by

Abh

on Aug 03, 2009 01:47:53

the best movie ever! jesse is a brilliant actor and he is sohot to! my fave movie for all time!!!!
posted by

ac

on Jul 17, 2009 09:07:07

i love jesse mccartney to death he is so sexxyyy!!!<333
posted by

#1 jesse mccartney f

on Jul 10, 2009 03:43:24

amazing- jesse deff made it better than it would have been if he wasnt in it. but it was the cutest movie ever, i cried. it kinda reminds me of a mix between titanic and the notebook!
posted by

bebebabe

on Jun 22, 2009 05:43:29

I actually just found this movie on the movie channel and watched the trailer and thought it looked good so i rented it. It far exceeded any of my expectations, I thought the acting was amazing and a great story of letting people in, falling in love, and fighting for what you believe in. Great great movie, wish it had better publicity, I could have seen it sooner.
posted by

A

on Jun 17, 2009 05:28:30

I loooooovvvvvvveeeeeeeee Jesse McCartney
posted by

krhysta

on Jun 05, 2009 08:19:15

greattt moviee..
posted by

sam

on Jun 04, 2009 02:07:59

i thought this movie was so good and sad i was crying so much
posted by

Kararly

on May 02, 2009 06:04:17

I Love this moviee !! And jesse Mccartney has a really good back !! It's the best back i've ever seen in my life !! :D But i didnt really get it the first time . and then i watched it again and i was all .. ohhhhhkkk :D hehe
posted by

Graaciee

on Apr 23, 2009 09:34:16

THIS IS MY FAVORITE MOVIE EVERR<3 SOOOO SAD:( LOVE JESSE MCCARTNEY<333333333
posted by

DaniellexGarcia

on Apr 17, 2009 09:14:56

this movie is my number one favorite movie. oh my gosh jesse did an amazing job playing keith and all the characters have great chemistry and it made me cry ten times more then the notebook ever did. i love it if you haven't seen it SEE IT!
posted by

christinaaawow

on Apr 04, 2009 05:35:06

This is one of the most amazing films I have ever seen. The best way to describe it I think is that it's real. Everything about it just feels real, the characters, their relationships. An absolutely amazing film. I was astounded. wow! Jesse McCartney continues to amaze me :) xx
posted by

bethxx5

on Apr 01, 2009 09:54:34

mesmorising,touching,sad,funny jessie put on a great performance! i just forgot to add that so i though i would :) lol
posted by

ismael

on Mar 30, 2009 11:02:32
this movie was one of the only mobies were i thought the charactors were belivable they acted so great! they have the chemestry to make you feel whats really going on between them. you cant find that in most movies these days you feel what the charectors feel and this movie has purpose. one of the best movies i have ever seen if not the best! mesmorising,touching sad, this movie really hits home. love it!!!
posted by

ismael

on Mar 30, 2009 10:59:49

Omg. That was so sad! I reaallly like this movie! It's weird how they didnt release it when it was made, and how it didn't get much publicity! It's soooo cuteee, even though it was a bit depressing. Jesse is amazingg! I criedd :[
posted by

jackieeee

on Mar 29, 2009 12:14:18

One of the best movies I've ever seen... <3
posted by

.

on Feb 28, 2009 07:28:06

The first time i watched it, i was a bit confused. But then i watched it a second time and this movie is just great. I'd have to say it was better than what i thought it was going to be.
posted by

Chelseaaa. (:

on Feb 16, 2009 01:32:42
wowz.. amazing! i cried almost the whole time ;(
posted by

Ameliiee

on Feb 13, 2009 03:19:35

the best movie i haev ever seen. it's..lifechanging
posted by

jesselover

on Feb 08, 2009 08:21:18

i lovee this movie i cry through the hole movie especially when jesse die i started bauling my eyes out
posted by

jesse_McCartneylover

on Feb 06, 2009 11:30:06

This is an amazing movie!!! I LOVE IT!!!
posted by

...

on Dec 17, 2008 08:39:32

luv it <3
posted by

mee

on Dec 08, 2008 03:39:16

breath taking movie. i love you jesse:]
posted by

staceybabe

on Nov 07, 2008 12:21:45

HERMOSAAAAAAAA HERMOOOOOOOOOOOOOOOOOOOSA!!!! GENIAL PELICULA : )
posted by

eliidhor

on Oct 30, 2008 04:00:56

i love the story line.
posted by

waffles_08

on Oct 07, 2008 11:36:58

i LOVE this movie! it was so sad and the acting was amazing. I LOVE you JESSE!!!
posted by

kate

on Oct 05, 2008 05:11:39

Prolly the best movie in YEARS! better than a walk to remember if youre going to ask me! my Goodness just can't stop watching it! elizabeth harnois it HOT as hell!
posted by

Vince

on Sep 28, 2008 12:15:43

Excellent movie. Very touching. A breath of fresh air and dose of reality for those who have watched too many mainstream Hollywood movies this year. Actors were well played, here's to you Jesse. :]
posted by

JJ

on Sep 26, 2008 05:34:02

PLEASE, could anyone tell me when and where you saw the movie? My daughter has been waitng for years for it to be released in the US. What state did you see it in, and can it be purchased? Please respond!
posted by

Brittany\'s mom

on Sep 21, 2008 07:51:06

i must admit, this film made me cry soo bad! i love it. it's the best film i've seen in AGES! and with jesse as the main star? I LOVE IT MORE! he's sexy :P
posted by

naaaaad

on Sep 15, 2008 09:25:49

Best movie ever! I loved it; the acting was great--Jesse did an EXCELLENT job. Hope to see him in more movies!
posted by

Julie

on Sep 14, 2008 11:59:21

Best movie ever! <3
posted by

lovekeith

on Sep 14, 2008 11:10:21

This is like the best movie I thought that it was cute and loving I also love you too Jesse McCartney you rock out loud I wish and this is one of my Dreams is to meet you In PERSON AND SPEND A DAY WITH YOU THAT IS MY BIGEST DREAM IF I COULD CHOOSE ANYTHING IT WOULD BE TO BEABLE TO SPEND A DAY WITH YOU. lOVE YOU LOTS, GABBIE k
posted by

Gabbie

on Jun 13, 2008 00:00:00

i love jesse mccartney. we grow up in the same place and school.
posted by on Mar 05, 2007 00:00:00