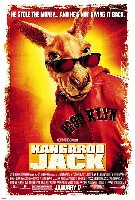 Overview
---
Genre
Comedy
Release Date
January 17, 2003
MPAA Rating
PG
Duration
89 min.
Production Budget
$60 millions
Studio
Warner Bros.
Official Site
click here

REVIEWS RATE: Critics Readers Be the 1st!
Cast and Crew
---
Director
David McNally
Producer
Jerry Bruckheimer
Screenwriter
Steve Bing, Scott Rosenberg
Starring
Story
---
Best friends Charlie Carbone (JERRY O'CONNELL) and Louis Fucci (ANTHONY ANDERSON) are both struggling to get ahead in life - but their approaches couldn't be more different.
Louis is an eternal optimist, which is a good thing considering he's also a magnet for bad luck. Ever since he saved Charlie's life 20 years-ago, Louis has embroiled them in a series of shady get-rich-quick schemes, which has only compounded Charlie's reputation as the ultimate loser in the eyes of his intimidating stepfather, mob boss Sal Maggio (CHRISTOPHER WALKEN).
More skeptical and low-profile than Louis, Charlie just wants to play by the rules, meet the right girl and make a success of his new business, which is tough with Sal skimming all the profits. But when Louis recruits Charlie to help him escort a truckload of stolen TVs across town, they inadvertently lead police straight to Sal's warehous, jam-packed with hot property. Just when it looks like the guys might wind up sleeping with the fishes, Sal decides to give Charlie and his bumbling sidekick one last chance for redemption. All they have to do is deliver $50,000 cash to one of Sal's associates in a remote outpost...the Australian Outback. Goodbye Brooklyn, G'day Sydney!
After an adventurous plane flight and a scary brush with Customs, Charlie and Louis find themselves barrelling down a dusty road in the Aussie wilderness with 50 grand stuffed in Louis' lucky red jacket. Looks like things are finally starting to go their way when. THUMP! Their jeep hits a large kangaroo.
As the guys try in vain to revive the lifeless roo, they realize he resembles their buddy "Jackie Legs" back home in Brooklyn. Louis impulsively insists on dressing "Jackie" in his lucky red jacket and snapping a few photos. Problem is, this kangaroo has a plan of his own. Before Charlie and Louis can react, the feisty beast springs to life and bounces off across the desert at lightning speed wearing what has just become the most valuable jacket in Australia. To their horror, the kangaroo disappears into the vast scrubland, leaving them with no money, no car and no clue.
Enlisting the aid of Jessie (ESTELLA WARREN), a resourceful American wildlife conservationist, along with a drunken bush pilot and a herd of the most ill-mannered camels that ever lived, Charlie and Louis attempt to track the wily kangaroo across the dense Outback, capture him and retrieve the cash before Sal's henchmen send them "down under", permanently.