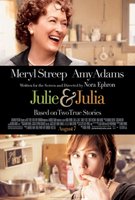 Overview
---
Genre :
Biography, Drama
Release Date :
August 07, 2009
MPAA Rating :
PG-13
Director :
Nora Ephron
Starring :
Meryl Streep
,
Amy Adams
,
Stanley Tucci
,
Mary Lynn Rajskub
,
Chris Messina
, Brian Avers,
Dave Annable
,
Vanessa Ferlito
, Jillian Bach

REVIEWS RATE: Critics Readers [Rate It]
Reader's Reviews
---
Sorry, For some dumb reason someone/some people here/there in the Mid. Southwest NM do not think we need to see this movie??????????????????
posted by

Interested

on Aug 22, 2009 12:36:36

Just came from seeing the movie (8/19/09). If you love Meryl you'll enjoy it. Some laughs, good personifications, but it really disappointed us (me and my wife). Just rent it.
posted by

M

on Aug 19, 2009 11:59:45

this movie was excellent, i am 14 years old, and my dad is a chef in his restaurant in LA. when he heard about this movie, he couldn't wait to see it, he told me all about Julia Child. honestly, i wasn't that interested in seeing the movie. but, i immediately fell in love with it. i am asking for the dvd for my birthday!
posted by

bailey

on Aug 13, 2009 06:18:31

Very inspirational, make me want to blog, cook, eat, and live out life the best I can =)
posted by

Yan

on Aug 11, 2009 10:34:16
I gotta see Meryl!! I think u people do 2 so im gonna help u.. the movie premiere is on 11 september i think and where is says it somewre in the bottom ..i wrote it before!!
posted by

Doolly

on Aug 11, 2009 05:00:01

WOO CAN'T WAIT TILL THE PREMIERE IS LONDON ! GOING TO MEET MERYL STREEP AGAIN !
posted by

MerylStreepIsMyLife

on Jul 30, 2009 08:55:48

rNzacI
posted by

Pqssoptx

on Jul 14, 2009 08:49:39

I think he movie pemie is in London Leicester Square but i dont know when .. sorry
posted by

Doolly

on Jul 11, 2009 01:39:54

Meryl does it again! I feel I am watching Julia Child! Another Oscar for Meryl is around the corner!
posted by

Quen4evr

on Jul 04, 2009 10:51:37

I had high expectations but was a bit disappointed. It had some funny parts but also very boring parts. Its just a rental....
posted by

MovieLuv

on Jun 04, 2009 02:08:10
omg i need to knwo when the premiere is please help me,, when and where,??? meryl <3 <3 xx Thatss All ;] xxx
posted by

shona,streep

on May 28, 2009 05:11:59

I loved it. Great character development. The past is beautifully detailed. The present is touching. Meryl is Julia Child and it's so fun to watch her act. The whole cast was enjoyable. The story is touching, realistic and the food, well aside from Meryl, it steals the show. Don't go hungry!
posted by

LA Movie Watcher

on May 05, 2009 03:03:29

whens the premiere in the uk for this movie and where abouts? please if anyone knows let me know as soon as possible please please please thanks xx
posted by

sophie.streep

on May 02, 2009 08:14:02

Oh my goood! I´m soooo happy about it!!! Meryl is always sooo great and funny!! =) I LOVE ♥MERYL♥
posted by

MerylsLove

on Apr 28, 2009 02:38:44

I can't wait to see this movie...I'm sure will be grea!
posted by

Movie Fan

on Apr 18, 2009 08:32:36