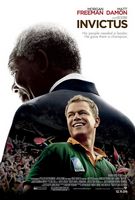 Overview
---
Genre :
Drama
Release Date :
December 11, 2009
MPAA Rating :
PG-13
Director :
Clint Eastwood
Starring :
Matt Damon
,
Morgan Freeman
,
Scott Eastwood
, Robert Hobbs, Langley Kirkwood, Bonnie Henna, Grant Roberts

REVIEWS RATE: Critics Readers [Rate It]
Reader's Reviews
---

dsd
posted by

sdfs

on Apr 17, 2012 04:46:48
Nelson Mandella was a fraud ...
posted by

chyeah

on May 26, 2010 06:43:24

Great movie absolutely inspirational ... soundtracks awesome too
posted by

leandro

on Apr 14, 2010 11:51:30

just saw this and it was amazing, love the choice of music
posted by

kathy

on Mar 06, 2010 03:46:09

It was extrodinary to me to think that a man could spend 30 years in a jail cell yet he is able to find forgiveness and inspire a nation through sport
posted by

invicus

on Feb 21, 2010 12:15:25

Incredible, moving movie about an amazing man. Great acting, and loved the soundtrack
posted by

Nat

on Feb 09, 2010 07:50:21

absolutely brilliant !!!!!!
posted by

invictus

on Feb 05, 2010 08:41:56

Thanks Clint & Morgan! Keep it up.
posted by

Chrisie

on Jan 29, 2010 07:44:57

A truly remarkable movie of a remarkable man. Caroline
posted by

Invictus

on Jan 26, 2010 07:15:39

very good movie, unbeliveable wonderful movie ! clint eastwood is really the best realisator :) i like a lot matt dammon and morgan freeman !
posted by

sunhisne

on Jan 26, 2010 02:06:04

so inspiring...and beautiful soundtrack also..
posted by

dui

on Jan 01, 2010 11:56:54

Unbelievably wonderful movie! Clint Eastwood deserves many awards for this movie!! Any human with a heart would feel the emotion and should be forever grateful for Nelson Mandella's sacrifice and leadership which helped make S.Afica & this world a more peaceful place to live!! Of course the music was awe inspiring as well!
posted by

scj0469

on Dec 30, 2009 11:28:05

This movie moved me! I had wanted to see it since I saw the preview about a month before its release and I'm so glad I did. I felt the struggle that both the team and Mandela went through. It made every audience member more aware of what goes on in our world. Thank you Clint Eastwood.
posted by

Dancergirl

on Dec 30, 2009 10:41:55

In my opinion, probably one of the most inspirational movies of all time. This is a must see movie. It certainly made me proud to be South African.What a great leader Nelson Mandela was.
posted by

SA Boy

on Dec 29, 2009 07:31:53

nevermind! figured out it was colorblind!
posted by

g

on Dec 27, 2009 12:34:47

awesome movie! what is the name of the song playing when Mandela visits the team after getting off the helicopter?
posted by

g

on Dec 27, 2009 12:15:53

A must see! I too had tears in my eyes throughout the movie. As an American, I did not know the struggles of South Africa. Very educational an an awesome soundtrack.
posted by

james416

on Dec 27, 2009 09:44:06

Very Great movie and idea!!
posted by

Marius

on Dec 26, 2009 07:35:21

A must see movie! I had tears in my eyes and a smile on my face through the whole movie! As a South African living in USA this was so close to my heart! This movie for sure need a Oscar! Morgan Freeman played a great Mandela!
posted by

sa girl

on Dec 20, 2009 11:59:44

Awesome movie and fantastic soundtrack Definite Oscar winner.
posted by

2550lpg

on Dec 15, 2009 07:17:39

A brilliant story relayed beautifully onscreen. Very touching. As a former rugby player, I understood what was going on, but leads to my one criticism... there is a heavy emphasis on the game and my friends said they were confused because of it. Many Americans will have a tough time overall with that aspect of the film.
posted by

Will Greene

on Dec 14, 2009 12:03:50

Fantastic movie and great sound track!
posted by

sfm

on Dec 11, 2009 09:57:26

Wicked good! A must see!
posted by

jizzer

on Dec 11, 2009 05:32:32

......countdown to this movie, soundtrack...... GO OVERTONE...Ruan, Riaan, Emile, Eduard, Ernie, Tine and Shane
posted by

JohanvanZyl

on Nov 20, 2009 04:07:59