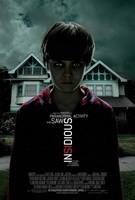 REVIEWS RATE: Critics Readers [Rate It]
Reader's Reviews
---

awesome!
posted by

adynSTAR

on Jul 30, 2011 02:46:41

One rate backwards, NEGATIVE VERY BAD
posted by

Insidious

on May 19, 2011 01:30:38

the song that plays on the record player and toward the end is called "tiptoe through the tulips" it's on itunes.
posted by

mack26

on Apr 16, 2011 11:19:25

i want the song that was on the record player too!
posted by

idk2

on Apr 15, 2011 04:50:54
I don't think this was the best scary, horror movie "DeeDyy89", the best was and is "Paranormal activity"
posted by

nikromants

on Apr 09, 2011 01:03:36

This movie was thee BEST scary movie i've ever seen in my LIFE.!! TWO thumbs up ppl.!! i NEVER get scared frm movies but this movie made me jump countless number of times, scream, nd almost made me cry no lie.!! it was so good i seen it twice in a row nd STILL got scared.!! I FUCKIN LOVED IT,!!!!:DD
posted by

DeeDyy89

on Apr 08, 2011 11:47:26

movie was scary as fuck lyk i cant believe i was that scared.
posted by

#1GABBY

on Apr 06, 2011 12:21:04

omg dhat movie waz so good i culdnt ask for anything better. i loved all of it..i cant believe that the husband got taken over and he killed that lady...i hope there iz an insidious2 b/c it was that good. I have no problems with this movie at all...GOOD JOB JAMES WAN AND ACTORS?ACTRESSES
posted by

ARCHIE\"S WIFEY

on Apr 06, 2011 12:19:36
dude what the hell i cant find the soundtrack anywhere
posted by

Okhay

on Apr 06, 2011 05:51:49

scary, scary sheep
posted by

delordscheeps

on Apr 04, 2011 10:44:42

Grand fucking film.
posted by

Breanna Gosdin

on Apr 02, 2011 12:22:25

Definitely not what I was expecting at all, in a good way! So freaking scary, and I dont get scared.
posted by

Lalalauren.

on Apr 02, 2011 08:52:20

How many stars will you give for the movie insidious ?' Scary as fuckinq movie !' And the best movie I'v seen so far !' Badass ahhh <3 I'd have to give it 4 stars so fuck the Critiques !' Ahaaa .
posted by

Gabby <3\'

on Apr 02, 2011 02:47:01

wat is the song that was on the old time cd player wen the little boy was dancing....... any info?
posted by

idk

on Apr 02, 2011 01:06:14