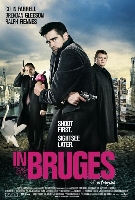 REVIEWS RATE: Critics Readers [Rate It]
Reader's Reviews
---

okay me again. i watched this movie again, and then again, then again and again and again and AGAIN! this is now my absolute FAVOURITE movie of all time. PLEASE SEE THIS MOVIE. its one that, as i did, needs to be watched over and over. you must listen to everything that is said. it is friggin BRILLIANT I TELL YOU! i may just be some dude who reviewed a movie to you, and you probably dont want to take my advice, but i PROMISE YOU IN BIG LETTERS THAT THIS MOVIE IS AWESOME. i dont know why the hell i gave this a 4/5 before. forget it ever happened. this is the best movie i have ever seen, and i am telling you, i watch at LEAST a movie per day, and it is hard to pick a favourite. actually its not hard. this is an easy favourite. oh, and be warned, if you are easily offended by swearing then dont watch it. Oh, and it was nominated for an oscar for best original screenplay. it lost to milk, though, which pisses me off, since milk already happened, so its not that original. anyway, see this movie!
posted by

rdog

on Jan 31, 2010 05:01:26

very good. if you get it, check out the bonus features. funny stuff.
posted by

rdog

on Oct 16, 2009 06:31:50