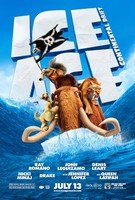 Overview
---
Genre :
Animation, Adventure, Comedy
Release Date :
July 13, 2012
MPAA Rating :
PG
Director :
Steve Martino, Mike Thurmeier
Starring :
Ray Romano
,
Queen Latifah
,
John Leguizamo
,
Denis Leary
,
Wanda Sykes
,
Josh Peck
,
Jennifer Lopez
,
Aziz Ansari
,
Keke Palmer
,
Drake
,
Seann William Scott
,
Nicki Minaj
,
Nick Frost
,
Heather Morris
,
Alan Tudyk
,
Kunal Nayyar
,
Rebel Wilson
,
Peter Dinklage

REVIEWS RATE: Critics Readers Be the 1st!
Reader's Reviews
---
i dont like ice age 1,2,3,4 its to much awful as animated movie and i am not to watch ice age trilogy and its awful and i gonna give all ice age animated movies 1 star!
posted by

dwayne bonello

on May 29, 2011 11:42:14
They'd BETTER add BUCK in, or at least a better plot for ol' Diego. He's the coolest character since Ice Age 1 (but in DoD I think it's Buck :D), and fear of water and losing his edge are pretty weak plot points. I think everyone will agree when I say Diego should have a LOVE interest.
posted by

Avid Buck Fan

on Mar 09, 2011 06:23:45
we need buck rudy and mummy dino in ICE AGE 4
posted by

BUCK & RUDY

on Jan 28, 2011 10:38:48
Hey guys I just saw the trailer of ice age 4, u can find it in another website its funny, as always the movie starts with scrat and it make a caos again, see it its so funny and cool.
posted by

Spyro

on Jan 20, 2011 09:04:51
I loved the first two but the third was really weak. I hope this (hopefully final) entry will be an improvement on the third. Got my fingers crossed.
posted by

Karlamon

on Dec 07, 2010 04:19:45
I Love Ice Age, Ice Age: The Meltdown, Ice Age: Dawn of the Dinosaurs, and Ice Age: Contitinetal Drift. And Ice Age: Journey into the New World is coming in 2015.
posted by

Cvisco2002

on Nov 11, 2010 11:09:34
My favorite chracter is Manny the Wolly Mammoth, Sid the Sloth,Diego the Sabor-Toothed Tiger,Ellie the Wooly Mammoth,Crash and Eddie, Peaches, and Eggbert, Shelly, and Yoko! =)
posted by

Cvisco2002

on Nov 11, 2010 10:59:30
I Can't Freakin' Wait Until "Contitnetal Drift" The Fourth Ice Age on 7/13/2012 in 3D I Love You 20th Century Fox and Your Ice Age Movies!!!!! =D
posted by

Cvisco2002

on Nov 11, 2010 10:54:13
Oh man! They might not bring Buck back. Cause I read the information on Wikipedia of the new cast. All I know is that Jeanette McCurdy will be voicing the teenage Peaches probably.
posted by

Angel7170

on Oct 13, 2010 06:43:33
WE NEED BUCK IN IA 4!!!
posted by

BUCK

on Oct 12, 2010 11:45:11
i already submitted my comment but I heard that in this movie manny and the others will be frozen in ice and they will be defrosted and lose on present day. I hope is not like that. I hope that there still at there home because everyone remember that in ice age 1 scrat was frozen and he apper in pressent time and made a caos in the island with the coconut that was funny, well i just hope is cool.
posted by

Spyro

on Sep 29, 2010 02:34:37
Ohh my godd Ice age 4 I cant wait to see it, if there was a way that time goes even faster so I can see it also other movies like madagascar 3, man in black 3 especially the one and the most increadable of all is alvin and the chipmunks3 the chip wrecked.But well all movies are the same but alvin and the chipmunks 3 is going to be ablast and I hope that is much better than alvin and the chipmunks 2.
posted by

Spyro

on Sep 11, 2010 01:12:45
i love queen latifa
posted by

dcc

on Aug 09, 2010 04:34:32
It has already been confirmed that they are already making a fourth one. The people at 20th Century Fox and Blue Sky Studios said.So there is gonna be one after all!!! YAY!!!!!!!!!!!
posted by

Angel7170

on Aug 01, 2010 11:58:17
cool! but make buck come back
posted by

bball

on Aug 01, 2010 06:51:16
woah, woah, woah, you guys, this is just early news, nothing much has been confirm yet, we will just have to wait until they offically declare it of what they plan for ice age 4, okey? ;)
posted by

Nichola

on Jun 23, 2010 09:52:50
The poster for Ice Age 4 can be found at DeviantArt, just Type in Ice Age 4 once there and scroll half way down the screen, it says "ICE AGE 4 FIRST POSTER in Photography"
posted by

ScratteLover2

on Jun 14, 2010 03:13:53
I at WorstPreview that Ray Romano, Queen Latifah, John Leguizamo, Denis Leary and Chris Wedge are expected to Reprise their roles as Manny, Ellie, Sid, Diego and Scratte. Karen Disher is rumored to reprise her role as Scratte and Jennette McCurdy is rumored to voice a teenage Peaches. Seann William Scott and Josh Peck are expecting to reprise their roles as Crash and Eddie. Simon Pegg is rumored to return as Buck. Frank Welker is expected to reprise his uncredited role as Momma and Rudy. Carlos Saldanha is going to be the director, as the theme of 1, 2 and 3. It is unknown who will voice Shelly, but I am hoping it will be Avril Lavigne. Also, the baby dinos and Peaches are going to be teenagers in Ice Age: Continental Drift.
posted by

ScratteLover2

on Jun 10, 2010 06:21:00
Whoa, they are making another Ice Age movie? Yay! All of our characters will be back! But that date is a long time from now! I can't wait to see Manny, Sid, Diego, Ellie, Crash, Eddie, and Peaches too! I wonder if Buck will come back probably not. Anyway, I can't wait!
posted by

Angel7170

on May 27, 2010 07:59:48