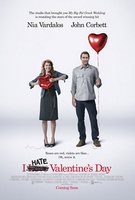 REVIEWS RATE: Critics Readers [Rate It]
Reader's Reviews
---

I wanna know who is singing the song """If I can't love you Till the day I die Then baby, oh baby What good am I?"""
posted by

Loura

on Nov 22, 2011 04:46:59

I love that scene when Genevieve is pulling up her pantyhose in front of the Tapas Bar while the patrons are watching through the window; totally classic. Also I love when Genevieve says, "I want to be wooed. I once had my name peed in the snow; everything counts." I think this movie is fairly formulated but I like the feel good movie formula. I found "I Hate Valentine's Day" when I was searching my guide for "Valentine's Day" and I'm glad it came up on Cinemax. I recorded it on my DISH Network employee HD DVR and then watched it with my wife for our date night. Seeing movies on a big TV is so much more enjoyable in 1080p like I have on DISH and more HD channels than any other provider is really nice to have.
posted by

Bryon

on May 17, 2011 12:21:11

loved the soundtrack
posted by

Dome

on Oct 19, 2010 10:49:24

really cute loved the soundtrack.
posted by

Aymz

on Sep 30, 2009 02:08:53

Cute movie! Love John Corbett!
posted by

KC starlet

on Aug 07, 2009 01:48:26

Loved it. where can I find the soundtrack??
posted by

DudeitsMe!

on Jul 16, 2009 07:26:58

Pc7EDC
posted by

Reikgujs

on Jul 14, 2009 04:27:56

He ie excellent in any acting role. His performance wii blow you away. His Dad
posted by

gary wilmes

on May 31, 2009 01:41:40

He ie excellent in any acting role. His performance wii blow you away. His Dad
posted by

gary wilmes

on May 31, 2009 01:41:19