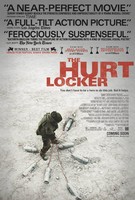 REVIEWS RATE: Critics Readers [Rate It]
Reader's Reviews
---

very good movie i thought very realistik and good action
posted by

david

on Jan 23, 2011 01:33:42

this one of the best movies i have seen in a long time. i watch it over and over. the music is excellent.
posted by

shffldchrls

on Dec 18, 2010 07:52:20

miss beckham...
posted by

fdec

on Jun 28, 2010 01:51:47

Good music. But, which came first?!?! The same music composed for The Hurt Locker is used in the episode 'Jet Lag' of NCIS at the interrogation scene. Someone ripped something off somewhere.
posted by

richo90

on Mar 16, 2010 06:21:47

great movie, great story. you can watch it for free at watchfullmovienow d0t c0m
posted by

Jake

on Mar 15, 2010 06:42:10

damn good movie.........loved it ...must watch.one of the best war movies i ever saw....great depiction and great, interesting story...thumbs up kathryn bigelow....
posted by

invincibilis.rai

on Mar 09, 2010 02:03:30

---Surfin' the ops ---seems the overwhelming view from those who've actually been beyond the comfort-zone and served on bomb squads in Irag is that 'Hurt Locker' ---is BOGUS. Check it out for yourself---
posted by

pg 2010

on Mar 06, 2010 09:21:00

---Hollywood and its GQ 'realism' chasing after a situation that's available for REAL on youtube.
posted by

pg 2o10

on Mar 02, 2010 01:57:44

goood film shame people dont see it for the blatent propaganda that it is
posted by

5am

on Feb 15, 2010 11:28:38

Favorite movie love wills cockiness. and stfu bmbsqd you aint got what it takes to put that suit on your probably like 12
posted by

Redneck49

on Feb 10, 2010 08:57:29

Probably one of the very best war movies! Breathtaking film direction and sound editing-mixing. Sharp, somehow realistic, poetic, but at times a little inaccurate and extreme… even so, I loved it! "War is a drug" and Kathrin Bigelow's cinematography transcribes that perfectly!
posted by

Katerina Mos.

on Feb 06, 2010 04:59:59

i thought it would be more intense... still really good, though.
posted by

rdog

on Jan 22, 2010 07:45:44

just got done watching it about an hour ago..awesome movie a must see for sure! two thumbs up
posted by

Marine Kyle

on Jan 12, 2010 03:01:51

Get some!!!!!!
posted by

SuperSix1

on Dec 16, 2009 02:48:57
Get some!!!!!!
posted by

SuperSix1

on Dec 16, 2009 02:48:18

Dang, that was an awesome piece of film !Thumbs up!
posted by

Hool

on Oct 17, 2009 10:16:38

It was by far, the BEST movie i've seen in a long time. greatly put together, well worth the money!
posted by

Freezypop987

on Aug 01, 2009 12:08:59

Worse movie ever. Disgraces the men and women who put that bomb suit on.
posted by

Bmbsqd

on Jul 28, 2009 12:51:51

I agree with the guy below great movie. ISOTF
posted by

BOMBSQ

on Apr 15, 2009 03:51:19

FN Bad ass movie
posted by

JIMWATZ

on Apr 15, 2009 03:50:45