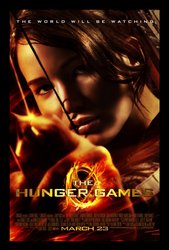 Overview
---
Genre :
Action, Drama, Thriller
Release Date :
March 23, 2012
MPAA Rating :
PG-13
Director :
Gary Ross
Starring :
Jennifer Lawrence
,
Liam Hemsworth
,
Wes Bentley
,
Josh Hutcherson
,
Alexander Ludwig
,
Elizabeth Banks
,
Paula Malcomson
,
Stanley Tucci
,
Donald Sutherland
, Jack Quaid,
Leven Rambin
,
Willow Shields
,
Toby Jones
,
Lenny Kravitz
,
Woody Harrelson
, Isabelle Fuhr

REVIEWS RATE: Critics Readers [Rate It]
Reader's Reviews
---

I LOVE YOU HUNGER GAMES! But I love Clove the most. Clove (played by Isabelle Fuhrman) has an amazing skill, she can throw knives so accurately. Not boasting, but I can throw sticks and rocks at my friends to scare them almost as well as Clove can throw knives at tributes.
posted by

Clovelover

on Sep 11, 2013 02:39:31

This movie rocks! Besides Isabelle Fuhrman, I am the biggest book buff you will ever meet and Clove is my favourite character of any book OR movie EVER MADE!
posted by

Clovelover

on Sep 11, 2013 02:33:42

I LOVE THIS MOVIE BUT CAN WE WATCH THE WHLOE MOVIE FOR FREEEEE!
posted by

macbook

on Jan 11, 2013 05:39:03
I absolutely loved this movie. It is easier to understand if you've read the books, however anyone who watches it will love it.
posted by

Hawtness

on Aug 17, 2012 05:38:49

WELL I WILL TELL U IS THAT IT IS GOING 2 BE LIKE THE TWILIGHT SERIES CAUSE IF THE HUNGER GAMES WINS LIKE TWILIGHT SERIES DID EVERY 1 WILL GET TIRED OF IT LIKE TWILIGHT SERIES DID
posted by

crystaldawn

on Jun 07, 2012 03:56:01

AMAZIONGINGNESSESSING!
posted by

Forest Bug

on May 20, 2012 07:33:40

I absolutely loved the hunger games, I read all three books in three days and I absolutely loved the story.
posted by

Katniss Everdeen

on May 14, 2012 09:47:34

Love this movie best one ever the actors fit the characters descriptions so well redid my room in hunger games waiting for the catching fire movie already read all the books!!!!
posted by

Hungergamesfan144

on Apr 02, 2012 04:12:29

Wonderful! Amazing Scenes! Can't wait for catching fire and mockingjay!
posted by

maevelyn

on Mar 30, 2012 07:54:51

THE HUNGER GAMES WAS POSITIVELY AMAZING!!!!!!!!!!! Everything about it screams "AWESOMEST MOVIE EVER!!!"
posted by

The Hunger Games

on Mar 29, 2012 01:40:37

To be honest, i though that this movie was junk unlike the book. Im not looking forward for the next movie.
posted by

Whiplash 1030054

on Mar 27, 2012 10:41:57
i really like your book that my class is reading were in chapter nineteen
posted by

the hunger games pic

on Feb 24, 2012 10:52:57
love hunger games can't believe they lost because of cosmopolis
posted by

zxcvbnm

on Jan 23, 2012 08:53:48
5 stars all the way!!!!!!!! You know what 6 stars! no 10 no 50 stars!!!! I <3 the hunger games series!!!
posted by

Hungergamezfreak!!!

on Jan 17, 2012 09:12:59
my cast:katniss=idk gale=logan lerman peeta=jeremy sumpter prim=ryan newman hmm they should do the rest with unknown faces
posted by

heather

on Jan 14, 2011 04:07:05
jeremy sumpter= good peeta
posted by

heather

on Jan 14, 2011 03:55:08
logan lerman totally totally is a gale and kristen stewart would ruin it and it would suck. i agree with everything u say Booklover100
posted by

heather

on Jan 14, 2011 03:53:32
i think that they should pick someone Compleatly unknown 2 be Katniss, sry but logan lerman? not a good peeta, he's more of a gale person. I've read things on the internet and honestly i think they can't cast Kristen Stewart as Katniss that would totaly kill it, she's too old as i said: unknown Katniss & the person should be somewhere between 15-19 at the oldest and any charicters with descriptions the actors should at least have the same hair color or they should change it- nobody wants another fiasco like Annabeth in the Lighting Theaf movie, 1st of all all actors were 2 old (hello they r supposed 2 be 12yr olds) and Annabeth is supposed to have BLONDE hair and grey eyes not brown Hair and blue eyes!! and they can't cast katniss as a blonde....
posted by

Booklover100

on Nov 26, 2010 02:51:51
LOGAN LERMAN FOR PEETA!!!!!!!
posted by

mrspeetamellark

on Sep 18, 2010 03:40:10
they are definetly going by the book cause suzanne collins is writing the screenplay so they have 2!!!
posted by

rue

on Aug 28, 2010 11:10:06
we made 2 more teams.they are team torn and die president snow die we are on both.we think lili taylor should be katniss' mom kristen kenawith should play ellfie.
posted by

die president snow d

on Aug 10, 2010 08:36:30
alex pettyfer would be great as peeta,AnnaSophia Robb as katnisss
posted by

haymitch_lova

on Aug 07, 2010 11:44:25
Brigit Mendler is too old for the part
posted by

Brittanysweetie12

on Jul 29, 2010 10:35:51
Ellie Fanning would make a great Prim. She guest starred on 2 Criminal Minds and would be perfect for the part
posted by

Brittanysweetie12

on Jul 29, 2010 10:33:36
Katniss: Shenae Grimes(or unknown) Prim: Elle Fanning Mrs.Everdeen: Courtney Yates Foxface: Hayley Williams
posted by

mememe

on Jul 05, 2010 07:34:17
I hope that they follow the book for this movie. The author did a great job creating the story, so they should keep it close to the book. But I REALLY liked the book and can't wait to see the movie!
posted by

Gamer_E

on Jun 18, 2010 09:24:16
my rating
posted by

will502

on Jun 08, 2010 07:06:54
this will be the best film ever it might have toned down violence though but my mum has agreed i can see it whatever age woot!!!!
posted by

will502

on Jun 08, 2010 07:05:58
I love the hunger games!!! AHHH!! can't wait any longer!! CWSE
posted by

resolution

on May 17, 2010 04:25:08
Team Rue!!!!! so excited!!! i bought a mockingjay pin at borders(:
posted by

loudmusic136

on Apr 28, 2010 04:04:23
gotta wait to next year l:
posted by

Gaabii

on Apr 24, 2010 09:50:25
i cant WAIT!!!!!!
posted by

strider49

on Apr 06, 2010 08:37:07
so excited!
posted by

woohoo

on Mar 17, 2010 05:17:41
i love "district 13"'s cast choices i love the books just hoping the movie can live up
posted by

gemma

on Jan 11, 2010 04:53:38

Make it worth my stars!!! The book truly is unbelievably awsome and has all the potential to be an equally mindblowing movie!
posted by

Frida

on Jan 02, 2010 08:54:48

My (unofficial) cast: Katniss- Bridgit Mendler (or an unknown actress) Peeta- Alex Pettyfer Mrs. Everdeen- Cate Blanchett Primrose- Ryan Newman Madge- Eliza Bennett Haymitch- Hugh Laurie Effie- Amy Poehler Cinna- Hugh Dancy Portia- Rachel McAdams Avox- Molly C. Quinn Rue- Yara Shahidi Foxface- Zena Grey Thresh- Stanislav Ianevski Cato- Sebastian Stan Glimmer- Emma Degerstedt Gale- Adam Gregory Mr. Everdeen- Matthew Settle Young Katniss- Adair Tishler
posted by

District 13

on Dec 14, 2009 05:16:08
me as katniss! XD
posted by

REBECCA

on Dec 03, 2009 03:24:43

2011 really pick a cast and crew and get working on the movie its not like twilight when u had to wait for the next book these come out like every year the whole phonenon will be almost over by the time the first movie even comes out a better date for it wold be in november of 2010 when another twilight movie comes out it would definitly push it into the spotlight
posted by

kaykay

on Nov 28, 2009 01:50:36

This movie will rock KatnissxPeeta
posted by

Peeta&Katniss4ever

on Nov 15, 2009 07:42:56

jeremy sumpter is like 20 now he's Fa too old to play peeta!!!! find someone around or close to the right age!
posted by

rhoswen

on Oct 27, 2009 03:03:03

PLEASE make the hunger games a really good film, close to the book!!! its an amazing book, dont kill it with a half arse bad movie like what was done with poor twilight!!!!!! please.
posted by

orangefan

on Oct 27, 2009 03:00:18

love books 1&2, lets get on with making the movie cuz i can't wait any longer!
posted by

Mollie

on Sep 16, 2009 02:20:04

I read the book! It's amazing, I can't wait to watch the movie!
posted by

Reygirl12

on Jul 07, 2009 07:53:21

I love the book. Now i want to see it on the big screen. whens that gonna happen?
posted by

Woman

on May 31, 2009 06:32:10

If they make this movie right it will be majorly awesome!
posted by

violet

on May 01, 2009 06:01:44

Jeremy Sumpter as Peeta mellark!
posted by

mischa

on Apr 21, 2009 09:25:04