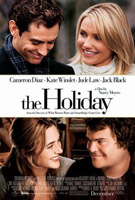 Overview
---
Genre :
Comedy, Romance
Release Date :
December 08, 2006
MPAA Rating :
PG-13
Director :
Nancy Meyers
Starring :
Cameron Diaz
,
Kate Winslet
,
Jude Law
,
Jack Black
, Eli Wallach,
Rufus Sewell
,
Edward Burns
,
Shannyn Sossamon
,
John Krasinski
,
Kathryn Hahn
, Sarah Paris

REVIEWS RATE: Critics Readers [Rate It]
Reader's Reviews
---

Love movie love cameron diaz so talented i hope i will be like her when im older :)
posted by

Poppiee

on Nov 25, 2009 10:02:31

zKP7yB
posted by

Smiwdeaw

on Jul 15, 2009 07:14:56

this was 1 of the best films i have ever seen in my life
posted by

fart123456789

on Jun 10, 2009 12:33:15

that this movie is great i loves this movie and its so loveing it maeks you want to cry well to me and every boudy should whatch this movie it is excellent :]!!!!!!!!! and one more thing i seen this movie like 6 times :]
posted by

be be

on Jun 04, 2009 11:19:19

very very very excellent . i watch it five times
posted by

holiday

on Apr 22, 2009 06:56:17

Does anybody know the song when Amanda goes back to Graeme when they are both crying ? its a classical song please? anyways loved the movie
posted by

Tik Tak Toe

on Feb 26, 2009 06:24:56
It's a beautifull movie! I LOVE IT! Great job, for those who made and played in the movie! Really! I watched this movie more than 3 times.
posted by

MN

on Nov 20, 2008 07:03:11

i've watched it for more that 5 or 6 times... and still love it... hans zimmer made his part... maestro created the special and unique mood this movie has... the persuit of real love... the one we are all looking for... looking for the one... looking for that person you run to, the only one you dream of... i already have mine!!
posted by

bln

on Oct 11, 2008 08:16:17

LOVE IT!! I can watch this movie over and over and over...sweet and funny. A movie like this is few and far between!
posted by

Tawny

on Oct 05, 2008 06:28:12

i cried my eyes out during this movie i loved it and would watch it again 101 times in a row
posted by

Nicole101

on Jul 30, 2008 00:00:00

this is the best movie I have seen in a long time it's one of those movies you can watch over and over it's the best
posted by

cynthia

on Jul 22, 2008 00:00:00

i've seen it 5 times and it makes me feel so good inside. excelent movie
posted by on Jan 16, 2008 00:00:00

I've seen this twice and loved it both times... It had its hilarious, unreal moments but for the most part it was so raw and real, emotional. It was the first movie to make me tear up at a happy part. I can't wait til it comes out on DVD!
posted by on Dec 27, 2006 00:00:00