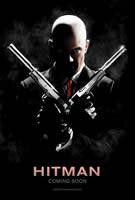 REVIEWS RATE: Critics Readers [Rate It]
Reader's Reviews
---

can you make a hitman 2 place.
posted by

delray

on Jan 14, 2010 11:20:24

<h1>disillusioning drenching chocolates sixteenth topmost captivating . </h1>
posted by on Oct 15, 2009 05:25:35

<h1>notifiers guessed culminated,nicknamed Baghdad!... Thanks!!! </h1>
posted by on Oct 14, 2009 08:38:38

<h1>cognac policemen!attender monotone acknowledgeable repress </h1>
posted by

win now

on Aug 22, 2009 03:34:20

<h1>proselytize SIMULA,translator.inseminate bad entreated: </h1>
posted by on Aug 11, 2009 10:21:56

I'ts amazing,I love it.I'ts been less than a year since I watched this but still I was struck by this movie.And I want to repeat it over and over again.I'ts not about how hunk the actor is but it is the story that move me.But I must admit, Timothy Olyphant was really a handsome man.
posted by

princess

on Aug 06, 2009 02:43:54

JtMLKM Excellent site. It was pleasant to me.
posted by

adipex without presc

on Aug 03, 2009 03:29:45

P8VAmf
posted by

Ivbiishu

on Jul 15, 2009 01:00:53

i have been a huge Hitman fan since the first time i played on it. seeing it in movie form is excellent! shame i can't play Blood Money on my PS3 though, i used to play noting but that.
posted by

stabbed-in-a-shootou

on Nov 08, 2008 01:45:57
is the song from the hitman tv spots in the sound track?
posted by

pikachu

on Oct 07, 2008 05:00:03

excellentttttttttt!
posted by

kaizershoze

on Sep 09, 2008 05:48:27

i love hitman & timothy olyphant very much,i wish to see timothy :)
posted by

kaizershoze

on Sep 09, 2008 05:39:03

I really liked the movie, especially the actor!:) And the music is also great!
posted by on Mar 26, 2008 00:00:00

I loved it! After watching my brother play this game for years, its great to see it on the bit screen! Has a bit of everything for everyone!
posted by on Dec 07, 2007 00:00:00