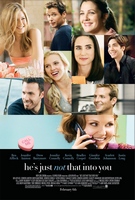 Overview
---
Genre :
Comedy, Romance
Release Date :
February 06, 2009
MPAA Rating :
PG-13
Director :
Ken Kwapis
Starring :
Ben Affleck
,
Jennifer Aniston
,
Drew Barrymore
,
Jennifer Connelly
,
Kevin Connolly
,
Bradley Cooper
,
Ginnifer Goodwin
,
Scarlett Johansson
,
Justin Long
,
Kris Kristofferson
, Broke Bloom

REVIEWS RATE: Critics Readers [Rate It]
Reader's Reviews
---

LOOOOOOOVED the ending! such a goo moie
posted by

kkk

on Sep 09, 2010 05:13:56

Yay I found out the song. Somewhere only we know by Keane, it's track 14 on the list up there :D
posted by

jwjyjb

on Jul 26, 2010 04:51:55

Guys does anyone know that name of the song when Alex and Gigi kiss near the end? It's killing me, not knowiing :P because it sounds good
posted by

jwjyjb

on Jul 26, 2010 03:58:10
i just
posted by

Lizzie

on Jul 23, 2010 10:07:59

I like the almost last scene. when alex and gigi kiss eacht other... does anybody know, how the song is called. I mean the song while this scene. would be nice to answer!!
posted by

Henni

on Nov 30, 2009 10:26:42

Nice move , recommended
posted by

Nicolas URUGUAY

on Oct 13, 2009 09:49:34

I've been playing over everytime I want to write something from the inner workings of my heart. So jive!
posted by

Hoplessly true

on Oct 12, 2009 01:38:23

good
posted by

Jimmster

on Sep 19, 2009 12:20:41

i love this movie!
posted by

lulusmiles

on Jun 25, 2009 03:18:53

Love it wow quite accuarte
posted by

Naysla

on Jun 20, 2009 12:56:27

loved it
posted by

RvcaMom

on May 22, 2009 12:04:12

i personally loved it. the soundtrack, the humor, the seriousness and it was so completely true with some of the things they said. it also shows that everything happens for a reason and you will find love, just not where or when your expect it. Also, i believe a lot of girls like it because in the movie or some parts of it they can relate it to their own life and help them grow from it. i saw it 4 times in theaters and cant wait till its out on DVD.
posted by

nicole

on Apr 22, 2009 02:11:48
muy buena la pelicula...sobre todo muy bonita scarlett johanson...
posted by

ivan

on Apr 09, 2009 03:33:30

somebody know the name of the last song in the movie??
posted by

hes just not in to y

on Mar 20, 2009 11:09:08

I thought it was fantastic!
posted by

Injest9

on Mar 09, 2009 06:55:47

DEMBO LIKES
posted by

me

on Mar 03, 2009 10:32:47

is an excellenat film i hope to go and see it again before it finishs with my unlimted card
posted by

davros

on Mar 03, 2009 07:10:41

I'm usually a fan of soundtracks. They remind of the mix tapes and cds I made as a teenager. I loved the craft of putting the perfect songs together for someone or some event. I'd sit in front of my music collection and build the latest creation. These days I still make mixes, but now they're in itunes, for my ipod or someone elses. This album is a GREAT mix tape...err soundtrack! It's full of fun, dance around your kitchen, songs. Yes, I was doing dishes when I popped the cd in! The album is full of new favorites, particularly James Morrison's "You Make It Real" and Erin McCarley's "Love, Save the Empty". I also really enjoyed the Cure and Talking Heads thrown in. It was nice to hear those songs again. A great surprise. All together, these 17 tracks really felt like a great mix tape. If you like that vibe and a good mix of great songs, go out and pick this one up. You won't be disappointed.
posted by

Jodi

on Feb 12, 2009 09:25:55

Now, it is hard to put a soundtrack together that everyone is going to love, but they did a good job. Out of 17 songs, I think there were only 2 I didn't really care for. However, when "Don't You Want Me" by The Human League came on, I knew I was going to love this CD. I also have a few other favorites on here like "Supernatural Superserious" by REM, "Somewhere Only We Know" by Keane, and "Friday I'm in Love" but The Cure. The biggest surprise on here had to be that Scarlett Johansson has her own song! I recommend picking this up!
posted by

blm03

on Feb 10, 2009 12:37:55

It's a great soundtrack with a lot of variety and love, love, love, just in times for Valentines.
posted by

vivaciousgold

on Feb 10, 2009 04:35:29

This movie was awesome it is totally worth especially Alex.
posted by

Mar

on Feb 09, 2009 11:14:50

i recommend this film to men everywhere. it rocks my socks.
posted by

ted

on Feb 08, 2009 07:05:08

amazing film
posted by

ebony

on Feb 08, 2009 04:59:24

Go see it, you wont' be sorry!
posted by

Z

on Feb 07, 2009 06:02:39

i luv this movie alot its such a good comedy, romance movie and its not like the chessy chick flick movies. so i think the men should go watch this movie! luv sarah s.
posted by

sarah sangster

on Feb 06, 2009 02:51:37

The "He's Just Not that Into You" Soundtrack has a really good flow to it. I expected to find myself skipping through songs like I normally find when I purchase or listen to a full cd. With this cd, I did not find any of the songs that I felt the need to skip through. The entire cd has a very mellow feel to it, so it is a good fit for both cleaning music, and even while you are doing other chores. I found it very pleasant to listen to while driving, and it kept me from feeling road rage :). I have actually listened to the cd many times since purchasing, and will be transferring it to my iPod as a playlist. I think that my favorite aspect of this cd is that it has a good mix of older songs, combined with new fresh songs, yet all of them are pleasurable to listen to. If the soundtrack is this good, I definitely look forward to what the movie provides!
posted by

qtpiestevenson

on Feb 05, 2009 11:32:16

i read the book back in highschool, an i was so excited when i found this movie online. i watched it 3 times. LOVE IT!!
posted by

couldnt-wait-to-see-

on Feb 02, 2009 07:54:03

Sorry to say, but Aniston brings the same friends character to all her movie roles. No depth here either.
posted by

Rachel Again?

on Feb 01, 2009 11:56:07

yfgt7 nhik b
posted by

njiufr5cuhb

on Jan 27, 2009 02:17:09