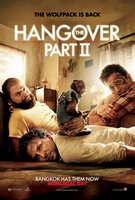 Overview
---
Genre :
Comedy
Release Date :
May 26, 2011
MPAA Rating :
R
Director :
Todd Phillips
Starring :
Bradley Cooper
,
Zach Galifianakis
,
Ed Helms
, Nick Cassavetes,
Paul Giamatti
,
Justin Bartha
,
Ken Jeong
,
Juliette Lewis
,
Jamie Chung
, Todd Phillips,
Mike Tyson
, Bryan Callen, Mason Lee

REVIEWS RATE: Critics Readers [Rate It]
Reader's Reviews
---

NDFBŞSICB DUISD DSDUWE EWE
posted by

DSADF

on Jun 03, 2011 03:11:04
Though Efron has not signed on for "The Hangover 2", Bartha said he would welcome the 22-year-old hunk into the group. "I love that guy," he said on the "High School Musical" actor. "He's actually really funny." Efron himself has claimed that he hasn't "got that call yet" to join the cast for the second installment of the franchise, but he would be interested. "That would be amazing," the 22-year-old smiled. "I think that they're amazing and I love the cast that they've got going on."
posted by

Notreallyhere

on Feb 04, 2011 04:12:26
I have no doubt you are all Americans as you all talk shit. It's not Zak Efron it's Zak Galfianakis that's in the film you bunch of morons
posted by

Waynethebrit

on Feb 02, 2011 06:41:27
hangover 2 is going to be better than the first i cant wait
posted by

tj4444

on Jan 25, 2011 07:22:24
You guys are all stupid
posted by

wow

on Jan 22, 2011 05:14:02
i wonder wats ganna happon wat if 3 alen stu and pritty boy gets lost and doug has to find them that sounds cool
posted by

jesijes

on Jul 21, 2010 04:44:22
another one oh god im happy fuck this is ganna be funny
posted by

jesijes

on Jul 21, 2010 04:42:40
Maybe next time the majority of the posters here can write in English. Where did you go to school????? Additionally, it's Zach Galifianakis and not Efron!?!?!?
posted by

Speak in English

on Jul 13, 2010 01:03:10
I'm raistist :-/
posted by

Poopmonkey96

on Jun 11, 2010 07:05:22
Hangover was my favorite movie I hope the second will be good too.
posted by

Poopmonkey96

on Jun 11, 2010 07:03:55
HEYYYYYYYYYYYYYYYY U THERE ISEE OVER IM HOT AND IMMA B N DIS DAMMNN FUKEN MOVIE BITCH
posted by

DJ

on Apr 19, 2010 10:13:13
tHATS SOME GODDAMN BULLSHIT HE SHOULD BE IN THE MOVIE BECAUSE ZAC EFRON IS FUCKING GAY I CANT FUCKING STAND HIM.bUT STEW IS THE FUCKING BOMB IS HE AWESOME
posted by

nigger

on Apr 19, 2010 10:12:22
WOKE UP, FUCKED UP, YUP, STILL GOTTA HANGOVER...
posted by

JOEY G

on Apr 03, 2010 10:47:34
CHECK IT OUT!JUST CANT STAY SOBER!!!MYSPACE SONG!!! IT'LL BE BEAUTIFUL ,LOL TRUST ME...773 816 73423 JOEY G AKA ANIMACITY
posted by

JOEY G

on Apr 03, 2010 10:45:20
CHECK MY SONG ON MYSPACE CALLED JUST CANT CTAY SOBER!!!GO TO MUSIC AND TYPE JUST CANT STAY SOBER.IT'S A NO BRAINER
posted by

JOEY G AKA ANI-MA-CI

on Apr 03, 2010 10:42:41
Hellz ya the Hangover 2 is gonna b soooooooooo muceh better than the 1st 1 i hope. I luved The Hangover so they shld probably make the sequel just as good
posted by

thehangoverisawesum!

on Mar 21, 2010 08:20:51
gonna b the best fucking movie!!! FUCK Efron his gay ass shouldnt be in there would make it jus unbarable
posted by

johnson1717

on Mar 14, 2010 08:30:05
YAYAYAYAYAYY PART 2!!!SOOO EXCITED
posted by

stephanie9609

on Mar 11, 2010 03:24:21
Keep Efron outta the movie!!!
posted by

carlos

on Mar 10, 2010 09:19:25
hes gonna fuckin kill it. it should be the original on some sort of same page as the last. FUCK EFRON!
posted by

EFRON REALLY

on Feb 24, 2010 12:37:35
Fuckin' Right!!!!
posted by

~*Afterlife*~

on Feb 22, 2010 01:31:48
Funny shit dude! Can't wait to see it
posted by

LIZBO

on Feb 16, 2010 12:14:40
:O YEEESSSSSSSS
posted by

JK

on Feb 16, 2010 05:42:11
HOLY fuck
posted by

reggin

on Feb 12, 2010 10:38:37
DAMN theres gonna be a 2nd one!! this is gonna be cool
posted by

reggin

on Feb 12, 2010 10:37:17
NO WAY!!!!!! theres gonna be a second one!!!
posted by

Stokkked

on Jan 23, 2010 04:57:54
Sweet!
posted by

IMBA

on Jan 17, 2010 04:07:09

im so excited. The first one was just great.
posted by

simcox52

on Dec 30, 2009 09:52:46

CANt wait!!
posted by

Carlos

on Dec 16, 2009 08:50:24

If its the same Director and actors, then hell yeah! Its gonna be AWSOME!!!!
posted by

sandman

on Oct 26, 2009 02:12:19

Loved the first one! Hope the 2nd one will be as great! ♥
posted by

Jimmster

on Sep 19, 2009 12:08:15

2ZTsax
posted by

Ihwdymgp

on Jul 14, 2009 04:12:04