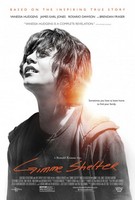 REVIEWS RATE: Critics Readers [Rate It]
Reader's Reviews
---

It is an excellent movie and had well played characters. The movie made me cry amd open my eyes.
posted by

Gimme Shelter

on Jun 08, 2014 08:50:01

This movie is just bursting with emotion. It's raw. See Vanessa Hudgens like you've never seen her before, giving a riveting, tear- bringing performance.
posted by

Gimme shelter

on Apr 29, 2014 10:28:13

This is a well written story and this gives hope to people that are living in situations like this because this story is based on a real people.:)
posted by

Yolo

on Apr 18, 2014 11:25:41

This shows how God has a plan for everyone
posted by

Gimme Shelter

on Apr 18, 2014 11:23:07

This was absolutely beautiful
posted by

Gimme Shelter

on Apr 18, 2014 11:19:57

This is NOT a prolife movie as the 1-star reviewer said. Does she run out of the abortion clinic? Yes. But who wouldn't after seeing an ultrasound of a live, moving baby in the womb? This movie is very well done and focuses more on redemption. Being in the social work field, kids are money to drug parents, they're taught to survive at a young age, they get abandoned often, and they trust no one. Excellent job from the directors to get that point across. Many don't beat the system or get out of it but this shows how that is possible. I don't know whose story this is based on but it's clear they worked hard at getting it as close to reality as possible... without all the f-bombs, actual drug use, sex, and violence.
posted by

Calimom

on Feb 07, 2014 03:16:50

Only for pro-lifers
posted by

Iview

on Feb 01, 2014 06:26:32