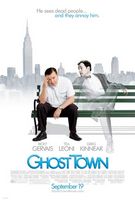 Overview
---
Genre :
Comedy, Romance, Fantasy
Release Date :
September 19, 2008
MPAA Rating :
PG-13
Director :
David Koepp
Starring :
Ricky Gervais
,
Tea Leoni
,
Billy Campbell
,
Greg Kinnear
,
Kristen Wiig
, Brian d'Arcy James, Jordan Carlos, Sebastian Lacause

REVIEWS RATE: Critics Readers [Rate It]
Reader's Reviews
---

does anyone know the title of the 1st ending song they played for the movie?
posted by

pao

on Apr 19, 2010 07:37:22

A very enjoyable movie, I was not familiar with the actor Ricky Gervais who is very funny. Greg Kinnear played a very funny and supportive role. Would recommend movie to friends.
posted by

voaks12773

on Feb 07, 2010 12:53:31

funny!
posted by

rdog

on Oct 16, 2009 03:02:05

One of my new favorite classics! Enjoy it more each time I watch it!
posted by

Jan

on Aug 04, 2009 12:27:30

I only saw like 2 commercials for this. When I went to try to rent to watch it for the fun of it, I was amazed. GREAT great movie.
posted by

Natef22

on May 16, 2009 07:01:06

THIS IS THE FUNNIEST MOVIE EVER!!!
posted by

EJT

on Jan 09, 2009 08:35:28

this was the greatest movie. it woke me up, to not live in the past like many of us do.
posted by

katherine

on Jan 03, 2009 12:10:59

Very thought provoking while at the same time very funny. The soundtrack is excellent - would buy it if it were available.
posted by

Vickie

on Dec 08, 2008 10:12:38
it's very good... my god Greg Kinnear is beautiful, to I love it, he is one of the most beautiful men who exists for my taste ... answer me girls they like greg Kinnear?
posted by

Mary

on Dec 05, 2008 10:33:36

while havin' a laugh this movie touched my heart and teared my eyes - excellent!
posted by

ndee

on Dec 03, 2008 11:31:28
Not what I expected but enjoyable. Will there be a soundtrack to the movie?
posted by

Query on 24 Nov 08

on Nov 25, 2008 06:20:41

yet not much entertaining!!!!
posted by

Ebbi

on Oct 17, 2008 12:33:51

this was the most entertaining movie, I have seen all year
posted by

cristypg

on Oct 14, 2008 08:28:54

A treasure-so sweet and touching. More movies should be like this and the acting was superb!
posted by

okakopa

on Oct 06, 2008 08:54:32

Funny yet poignant. Very down to earth in some ways yet it also takes you into fantasy world1
posted by

cabingirl

on Oct 04, 2008 09:20:37

Sweet, unexpected, witty, sharp and, hands down, great entertainment.
posted by

corizzo

on Sep 28, 2008 03:34:43

Excellent
posted by

rakhi

on Sep 28, 2008 02:39:17

I laughed so hard i fell off my chair...:) made me feel so good!
posted by

zebomb14

on Sep 27, 2008 12:15:46

I didn't have high expectations going into the theatre. I was pleasantly surprised! It was touching and laugh out loud funny!
posted by

Johnny_P

on Sep 27, 2008 10:59:50

This is a cute romantic comedy:-)
posted by

go see it!

on Sep 27, 2008 08:06:36

I loved this movie. It made me laugh out loud.
posted by

Tatuvamp

on Sep 25, 2008 06:00:47

Laughed all the way through. Ricky Gervais is a genius.
posted by

Stixaz

on Sep 24, 2008 02:49:43

I loved this movie. I laughed and giggled the whole way through. And I love the soundtrack! When can we buy it? This movie will be on my "Must Buy DVD" list for sure.
posted by

Janet

on Sep 22, 2008 02:23:19

gold.
posted by

grayson

on Sep 20, 2008 01:59:23

This movie had its fair share of slow/dry and even unnecessary scenes but it also had planty of very unexpected hilarious and moving bits of acting. If you don't go out and see it in theaters, then definitely see it on DVD
posted by

Jake

on Sep 18, 2008 09:56:38

I agree with the other posts-- I at first was skeptical when I saw the trailer and posters, but I also went to a free preview and it was wonderful. Unexpectedly so, and with its own brand of originality, combined with good humor and the right amount of poignancy.
posted by

sui

on Sep 12, 2008 01:59:27

I hadn't even heard of this movie. I went to a free preview and I must say I loved it. It is funny and sweet and the soundtrack is awesome. You've got to watch it!
posted by

orchid

on Aug 08, 2008 00:00:00

I didn't think this movie would be very funny. Slightly amusing at best. But this movie exceeded my expectations by leaps and bounds. Its funny and touching. A must see movie!
posted by

Hokte

on Aug 07, 2008 00:00:00