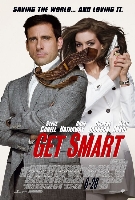 Overview
---
Genre :
Action, Comedy
Release Date :
June 20, 2008
MPAA Rating :
PG-13
Director :
Peter Segal
Starring :
Steve Carell
,
Anne Hathaway
,
The Rock
,
Alan Arkin
, Terence Stamp,
Bill Murray
, Ken Davitian, Nate Torrence,
David Koechner
,
Masi Oka
,
Terry Crews
, Craig Susser

REVIEWS RATE: Critics Readers [Rate It]
Reader's Reviews
---
singal smart boy photo
posted by

zafar

on Apr 08, 2011 06:42:58

Heey guys, does anyone knows what the music when Max and 99 are walking and arguing in the Russian forest (after they arrived there by parachute)? It is so beautiful, but I can't find it!
posted by

Mos

on May 24, 2010 08:59:21

the music was terrific
posted by

mofo

on May 20, 2010 06:59:20

it is one of the best movies i ve seen
posted by

dr evil

on May 20, 2010 06:56:02

Can't understand why the critics were lukewarm. I thought it was great. Really funny and with excellent action scenes. Sound track is superb.
posted by

njb

on Jan 08, 2010 05:58:41

As a true Get Smart TV fan, I was skeptical. But the movie was FANTASTIC! Great music, too! Reviews by critics were not too good, proving that critics are fruity imbicils with no appreciation of great comedies. See it! You'll love it!
posted by

scidude

on Aug 09, 2009 11:38:18

pmE3wS
posted by

Krfncate

on Jul 14, 2009 09:43:20

This movie was hilarious. just watched it all the way through for the very first time. I noticed that the music used in the movie is the music also used in the transformers movie.
posted by

T.D.acoustics

on Jul 12, 2009 11:23:20

What was that song at the beginning of the movie when he was playing with his ipod?
posted by

Lola allen

on May 16, 2009 08:57:59

Where can I download the version of Get Smart's "El Negro Zumbon?"
posted by

tara

on Apr 27, 2009 08:07:54

get smart is cool
posted by

lard

on Feb 27, 2009 12:17:25

Anna (El Negro Zumbon)" by Les Brown & the Band of Renown. However, someone else says that this version was done by Esquivel.
posted by

Canuck

on Dec 03, 2008 03:59:03

What WAS the name of the song playing while Get Smart danced with the fat lady? Is it Italian, Portogese or Brazilian or what?
posted by

need2no

on Nov 30, 2008 04:34:31

Can any one tell me who was the BBW in the dance scene??
posted by

Charm

on Nov 23, 2008 02:31:38

WHat was the song being played when Max and the fat lady were dancing?
posted by

WingRider

on Nov 22, 2008 12:55:59
avery, do you mean Madonnas "4 minutes"?
posted by

Sam

on Oct 08, 2008 10:40:29

At 51.22 when they drive the scooter/moped (or whatever it is) in russia, after they have escaped (after the dance and the party) what is the name of music they play?
posted by

Sam

on Oct 08, 2008 10:37:56

can anyone tell me the song played when the credits were rolled
posted by

avery

on Oct 06, 2008 07:30:27

The melody that plays at the part when Harvey reads the threat card was also in the trailer for Munich. It's the main theme for the movie The Life of David Gale.
posted by

dan

on Sep 07, 2008 00:00:00

Yeah, what was that song called? Anybody know?
posted by

atread14

on Jul 17, 2008 00:00:00

Yo tick tick tick boom artist: the hives and does anyone know the name of the song the plays at the end credits? I'm pretty sure it's in another recent war movie, or transformers.
posted by

ftwbby

on Jul 12, 2008 00:00:00

sorry that didn't show up right. the song you're looking for is called tick tick boom by the hives
posted by

ftwbby

on Jul 12, 2008 00:00:00

In the trailer on youtube, there is a song and I want to download it, but i don't know what it's called. The song goes like this: tick tick tick boom :D Can somebody tell me what this song is called? thanx
posted by

tick

on Jul 09, 2008 00:00:00
Anne Hathaway, I'd hit that 4 sure
posted by

ftufujfyu

on Jul 03, 2008 00:00:00

SO WISH I COULD OF SEEN IT THE DAY IT WAS RELEASED INSTEAD OF THE LOVE GURU.. GET SMART: VERY FUNNY MOVIE... LOVING THE THEME OF IT.... UMMM REALLY FUNNY LIKE EVERYTHING STECE CARREL HAS DONE.... ANNE HATHAWAYS CHARACTER FLAWLESS... UMM I SPEACIALLY LIKED THE 4 MINUTES SONG BY MADONNA FEAT. JUSTIN TIMBERLAKE.. I AM A MADONNA FAN SO THAT SOGN PUT ME TO DANCE DURING THE MOVIE.. AND WHEN THE END CREDITS STARTED TO SCROLL UP THE SONG CAME OUT AND I DANCED MY WAY OUT OF THE ROOM....
posted by

EVIL WHORE

on Jun 29, 2008 00:00:00

Hilarious, fun, and cool movie! The whole audience was laughing and cheering throughout. Some of hollywood's stupid sexual innuendos kept me from being able to recommend it to anyone, but aside from those the movie delivered strong. I'll be seeing it again... and loving it!
posted by

Jii

on Jun 25, 2008 00:00:00

That was an awesome movie!!! Everyone should go see it, its sooo funny and a really great movie, though the rock didn't really have a god role in it, it was funny though VERY funny!!!!! LOVED IT!
posted by

Optimis

on Jun 24, 2008 00:00:00

This was a great movie. Steve Carell was endearing and funny without being stupid. Even the smaller roles (Bill Murray and Masi Oka) made the audience laugh. There were also cool stunts, action scenes, and gadgets. I loved it! It was the best movie I have seen in a long time.
posted by

emssss

on Jun 24, 2008 00:00:00

funny funny, not a big fan of comedy but this one was funny
posted by

tizz

on Jun 23, 2008 00:00:00