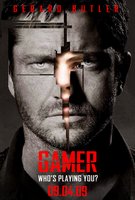 Overview
---
Genre :
Thriller, Sci-Fi
Release Date :
September 04, 2009
MPAA Rating :
R
Director :
Mark Neveldine, Brian Taylor
Starring :
Gerard Butler
,
Michael C. Hall
,
Amber Valletta
,
Alison Lohman
,
Logan Lerman
,
Kyra Sedgwick
,
Milo Ventimiglia
,
Ludacris
,
John Leguizamo
,
Terry Crews
, Aaron Yoo, John de Lancie, Jonathan Chase,
Zoe Bell
, Noel Gugliemi

REVIEWS RATE: Critics Readers [Rate It]
Reader's Reviews
---

excelent
posted by

bavan

on Oct 22, 2013 03:29:27

Amazing movie :)
posted by

Seymour Butts

on Jan 02, 2013 09:19:52

THIS MOVIE WAS AMAZING I HAVE SEEN IT SO MANY TIMES the soundtrack was amazing and everything was so life like i could see it 300 times and still think its awesome
posted by

ChizzyMan

on Dec 03, 2010 02:52:03

Does anyone know the name of the 'Irishy' tune that is played pleaseeee?
posted by

Ceri

on Aug 23, 2010 06:55:20
How do i get the society song though??
posted by

ollie

on Aug 18, 2010 01:25:25

Totally awesome movie! Brilliant soundtrack!
posted by

Lau_Lau

on Jul 12, 2010 03:42:54

If ever there was a movie i could just watch over and over... Its this one 15 times and still going.........
posted by

Gamer

on Jun 08, 2010 11:44:01

This Movie was AWESOME if it wen to 10 id give it probably a 1000000/10 i think it had just the right amount of action the movie could have done without all the nudity but it was still good 5/5
posted by

TheThevideogamefreak

on May 01, 2010 11:21:28

Movie was nuts. Michael C. Hall's Ken Castle was the best thing in the movie. He was in another league altogether.
posted by

lalita

on Apr 20, 2010 12:57:02
but where is he? I didn't see him in those pictures??? :(
posted by

Ansel Phuong

on Apr 16, 2010 03:47:28

this movie sucked a lot.. but logan lerman made it better!! <3 he was hilarious in some scenes! XD
posted by

iloveloganlerman

on Feb 15, 2010 05:00:42
The truck is a custom 73 Chevy C series
posted by

killstew

on Feb 01, 2010 11:22:12

i think the truck is a dolled up mid 70's chevy truck or some new retro project by GM
posted by

blkel

on Jan 30, 2010 01:17:02

Those anyone know the exact year, made an model of the truck that Gerald butler use to Escape from slayer
posted by

spark

on Jan 27, 2010 10:02:31

they could've made it so much better, and the ending... like what the hell? worst anti-climax I've ever seen... + it felt like they had shortened the movie alot. Great Idea, less great movie
posted by

well-.-

on Dec 29, 2009 01:26:18

to ( The Delectable Gerry ) the answer is the boy player who was controling him
posted by

U-NIS$

on Dec 02, 2009 09:15:49

I want to know what is the name/mark of the bike that the blonde girl was driving while rescueing Tillman? so if anybody knows it please reply :)
posted by

lukahauc

on Nov 29, 2009 10:56:22
otimo cd
posted by

dj

on Nov 27, 2009 04:20:40

This movies was GREAT!
posted by

Nicolletta

on Nov 13, 2009 09:22:38

Really good movie. I would recommend it to pretty much everyone.
posted by

:D

on Oct 19, 2009 07:18:24

what kind of truck was that he took?????? and the movie was bad azz
posted by

gomez#1

on Oct 02, 2009 08:43:37

It was a great movie better then i thought it was going to be. GO SEE IT! the soundtrack is amazing
posted by

ashilazy

on Sep 23, 2009 08:46:06

awsome movie. wats the song ware he busts outa the ring or w/e. wen hes in the restricted area
posted by

weezy

on Sep 07, 2009 07:47:50

That is Logan Lerman's face behind Gerard Butler.
posted by

beb

on Aug 29, 2009 11:48:48

i want to know who's faces is behind Gerard Butler?
posted by

yoyooo

on Aug 17, 2009 01:42:54

cZZAzh
posted by

Glzmpkba

on Jul 13, 2009 09:46:53

I can't wait to see it either. Gerard Butler. Need I say more? And the song used in the trailer is a Marilyn Manson remix of the 80's song Sweet Dreams by Eurythmics.
posted by

Anon

on Jul 01, 2009 09:03:58

i want to know who's face is behind his, and more so what song they play during the teaser trailer!
posted by

The Delectable Gerry

on Jun 01, 2009 09:18:50

I Can't Wait For This Movie To Come Out....AWESOME!!!
posted by

ast

on Jan 26, 2009 11:09:53