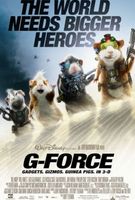 Overview
---
Genre :
Action, Adventure, Fantasy
Release Date :
July 24, 2009
MPAA Rating :
PG
Director :
Hoyt Yeatman
Starring :
Nicolas Cage
,
Penelope Cruz
,
Will Arnett
,
Sam Rockwell
,
Steve Buscemi
,
Kelli Garner
,
Tracy Morgan
,
Bill Nighy
,
Zach Galifianakis
, Niecy Nash, Loudon Wainwright III, Tyler Patrick Jones, Justin Mentell, Gabriel Casseus

REVIEWS RATE: Critics Readers [Rate It]
Reader's Reviews
---

excellent says all
posted by

Neo

on Oct 02, 2009 04:59:46

I dont know why a some people dont like the movie, its a good story, it has action, comedy, popular music, and other stuff. It was a really good! it is my favorite movie, i liked the kind of story between Darwin and Hurley, the 2 brothers, it kind of reminded me of me and my sister. it was a lot of fun.
posted by

Alexandra

on Aug 12, 2009 04:48:22

This movie was so funny!! I loved it! I love the little guinea pigs they were so adorable! I love the whole story line and I was surprised that the mole was bad> It was an interesting Moie and I think anyone of all ages would have fun watching it!
posted by

T-Roe

on Aug 03, 2009 11:51:53

WOW THAT MOVIE WAS EXCELLENT AND BECAUSE THE MOVIE WAS IN 3D IT WAS EVEN BETTER AND ALSO BECAUSE PENELOPE CRUZ AND TRACY MORGAN WERE THERE..
posted by

PENELOPE BENCOSME

on Aug 01, 2009 12:32:12

Our kids loved it and so did we! Best 3D film I've seen yet and Tracy Morgan and Penelope Cruz were great in it!
posted by

turner0722

on Jul 30, 2009 10:59:01

Good for ages 4-12
posted by

vballin2209

on Jul 26, 2009 09:22:17

awesome
posted by

crystle 878

on Jul 22, 2009 10:28:57

Mr2v97
posted by

Yetgpnei

on Jul 14, 2009 11:56:35

its probally rated g or pg it looks like a kid movie
posted by

jazz man

on May 27, 2009 10:49:41

what is it rated
posted by

lil

on May 21, 2009 01:03:03

what is it rated?
posted by

lil

on May 21, 2009 01:02:22
hmmm...is this the long awaited g-force movie based on the 1970's cartoon ? saw a trailer about 3 years back that looked really good & it was live action! but just like a roger corman movie it sank without trace for some reason...no doubt it will do a fantastic 4 maneuver.
posted by

Tetro

on Oct 02, 2008 08:53:33