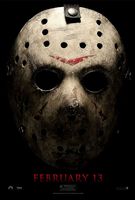 Overview
---
Genre :
Horror
Release Date :
February 13, 2009
MPAA Rating :
R
Director :
Marcus Nispel
Starring :
Jared Padalecki
,
Danielle Panabaker
, Derek Mears,
Amanda Righetti
, Jonathan Sadowski, Nana Visitor, Aaron Yoo,
Willa Ford
, Arlen Escarpeta, Travis Van Winkle, Julianna Guill, Caleb Guss

REVIEWS RATE: Critics Readers [Rate It]
Reader's Reviews
---
friday 13 days alnzo alvarado movie kill yuo
posted by

alnzo alvarado

on Mar 16, 2011 09:53:58

very good cast. seen all firday the 13th this had to be the best one.this is to the director of second film.don't fuck it up.xxx
posted by

george nimmo

on Nov 29, 2010 04:29:58

Loved this movie and saw it 8 times and bought the DVD. I'd Fuck Jared Padalecki anytime. The man is just too Fucking Hot! OK!
posted by

Jason/ Jared

on Jul 30, 2009 01:13:17

U could have wactched Porn instead of this very terrible slasher flick. Never saw a Horrorflick that had so many naked chicks needed to be interessting ... sad but true. But the OST has some great Songs.
posted by

Accepted

on Mar 11, 2009 03:18:41

this movie sucked
posted by

Kimbo

on Mar 07, 2009 12:33:55

This was one of the best movies that I have seen in a long time. I liked how it had you guessing the whole time,but in the end it's NOT what you expected to happen.
posted by

Ericka.

on Mar 04, 2009 12:33:04

I loved this movie and I saw it 5 times. Jared Padalecki rocked in the movie. He's great on Supernatural too as Sam Winchester. If Jared comes back for the next Friday the 13th film. I don't want him to die. Jensen Ackles needs to be in the next movie with Jared. So they can kill Jason together.
posted by

Jason

on Mar 01, 2009 07:32:45

Any person know the music of the part 30 seconds in the trailer
posted by

Hunterd15

on Feb 24, 2009 08:06:54

ohmigossh , I absolutely adored this moviee <3 i've been hooked to ' i like it , i love it ' ever since I've seen itt ! I've even re-did the scene where bree was dancing to itt for my boyfriendd x) majorr funn !
posted by

loveitt !

on Feb 21, 2009 09:34:46

Made me very happy . Horror Fanatic
posted by

misheru

on Feb 20, 2009 07:39:08

FUCKIN GREAT MOVIE. LOVED IT. IT WILL KEEP U ON THE EDGE OF UR SEAT FROM BEGINING TO END. DEFINATLEY WORTH SEEING. IM A MAJOR HATER OF HORROR MOVIES AS OF LATLEY BUT THIS ONE TOOK ME MY SURPRISE. GREAT CAST, DIRECTING AND EVERYTHING
posted by

Jason\'s Back

on Feb 19, 2009 11:21:37

i agree with "dumb", this movie fuckin sucked donkey dick, cant anybody remake these horror flicks and follow the ORIGINAL plot?? i mean, whats the point of remaking something and naming it after the original, and then make a COMPLETELY different movie, this one sucked almost as much as the remake of the texas chainsaw massacre, and no wonder, it was made by the same fuckin idiots that did that remake too. nothing can touch the original movies, this one is just modernized for the moron teen audiences of today, they dont have a clue as to what makes a good slasher flick nowadays, just watch the original chainsaw massacre, and you'll see horror like it was meant to be...the only reason i gave it one star is because it wont let me give it a negative score, the only thing this movie was good for was wasting 2 hours of my life
posted by

this movie BLEW

on Feb 18, 2009 05:32:08

I dont think any of you have ever seen a Jason movie, this one sucked, it was not scary, and it blew chunks. I am a HUGE Jason fan and this movie just did not cut it for me.
posted by

dumb

on Feb 18, 2009 02:14:25
this is a verrrrrry move and i'veseen it #3 tims!it was a amazingly good.i really like jason and his mad things and i hope thay make aanouerth one and jan=son vers fredey move by i like woremoves!!!!
posted by

7009

on Feb 17, 2009 07:21:39

Superb horror film.
posted by

jason

on Feb 17, 2009 03:08:38

Saw it the night it came out-I had more fun standing in line waiting to get in. Predictable and Dumb.
posted by

Fuzzysmom

on Feb 16, 2009 08:05:54

It takes A LOT to scare me and this movie did! I covered my eyes, and nearly screamed! By the end of the movie, I was in awe. It was SO good! I suggest everyone should see it, even if they don't think it'll be good. It'll blow you outta the water!
posted by

mickiidoo

on Feb 15, 2009 10:16:11

this was a verrrrrry good movie, i've seen it twice now! it was amazingly good.
posted by

cheena

on Feb 15, 2009 08:37:28

i realy love jason he is a mad thing
posted by

danny

on Feb 13, 2009 12:37:30

Oh Friday the 13th i think i heard of this one before is this the: 1980 film 1981 film 1982 film 1984 film 1985 film 1986 film 1988 film 1989 film 1993 film 2002 film 2003 film Remaking this film will make it even more crap
posted by

Scorpio

on Feb 11, 2009 12:11:08

im soo looking forward on watching this movie!!! im sure it will rock!!! i luv the cast!
posted by

mhau

on Jan 30, 2009 02:56:31

i love it
posted by

saqweruiuiuiuiuiuiui

on Jan 29, 2009 03:28:10

I think that this movie is going to be Awesome i can't wait....
posted by

ast

on Jan 26, 2009 10:18:04

This movie was beyond horrifying. Im not a big fan of horror flicks but this movie diserved my attenyion. My friends are obssesed with movies like this one s oofcourse they took me out to see it. I had my eyes closed a tthe beggining but the movie grew on me. I didnt understand the whole he only kills teenargers but it was scary adn gross. Although it doesnt have much meaning it deserves 4 stars.
posted by

Sheyla

on Jan 18, 2009 11:44:35

I think that this movie is gonna be a hell of a remake because the trailer looks really intense and they got a hot cast for the movie including Danielle Panamaker. Can't wait for this movie!
posted by

Ernesto15

on Dec 15, 2008 02:44:17

Awesome!! Can't wait!!
posted by

GO BLUE

on Oct 22, 2008 08:08:24

Can't go wrong with an 80's slasher flick. This movie will rule all! Jay!
posted by

Voorhees l3

on Sep 11, 2008 12:59:48

WTF....who decided to remake this film again, the last jason vs freddie was even stupid. I love Friday and freddie, been a fan for years. But this movie reeks straight to DVD
posted by

Blaquepearls

on Jun 30, 2008 00:00:00