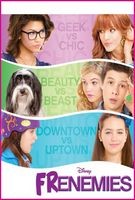 REVIEWS RATE: Critics
N/A

Readers

[Rate It]
Reader's Reviews
---

This movie is an exellent movie for children of all ages!!!!!I have a BFF and we get along sooooo damn well...this movie teaches you to not use people and to not want what others have!!!!I say that frenemies inspired me alot ant I found out who my TRUE friends are NOT the kind of friends who use you(to do their projects for them)but who love you for who you TRUELY ARE!!!!!
posted by

frenemies

on Jan 08, 2013 10:49:02

nice, very nice
posted by

grace

on Aug 14, 2012 08:12:42

That was one of the worst movies ever. Couldn't Disney have used some talented actors? It was doomed anyway, the "plot" was awful too.
posted by

Awful.

on May 05, 2012 05:17:49

Loved the movie! By the way connor your so cute!!!
posted by

Morgan

on Jan 15, 2012 07:32:17

I liked the movie honestly!Then again I also liked the Cyberbully movie with Emily Osment.
posted by

JB4071

on Jan 14, 2012 12:57:15