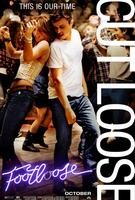 REVIEWS RATE: Critics Readers [Rate It]
Reader's Reviews
---

SOOOOOOOO AWESOME!!!!! I love Ren and Willard!!!
posted by

adidas9328

on May 29, 2013 10:24:48
I love this movie
posted by

Tori Begay

on Apr 07, 2013 05:27:11

Amazing !!!! love the dancing and the songs
posted by

Lillyfly

on Jun 04, 2012 04:26:10
I love working on this film! Out of all the movies I've done, this one tops them all! Kenny is an amazing actor/dancer! He fits the role perfectly! I think my generation will LOVE this one just as much as the original!
posted by

Rusty

on Oct 04, 2010 03:18:10
My daughter is in it as background talent and already loves it. Filming isn't over yet. They work night and day..days on end. Her generation will love everything about it.
posted by

Anextrasmom

on Sep 24, 2010 04:46:55
zac efron does not suck you poeple are mean
posted by

cjscooby1234

on Jun 13, 2010 12:07:39
This is jacked up, Zac Efron sucks and NOONE can replace Kevin Bacon. I think this is a shame that this movie is made again. But what makes it worse is Zac Efron , he belongs in his HSM movies. I hope this movie is good... and not crap.
posted by

SM

on Feb 01, 2010 04:27:17
Hope it is good... i love the old footloose but no one could do as good as Kevin Bacon not even Zac Efron!!!
posted by

bdub

on Jan 15, 2010 08:46:32

oo619V
posted by

Kdbasieu

on Jul 15, 2009 01:36:53

I heard Efron pulled out and it's now chase Crawford and Julianne Hough playing the main characters
posted by

cutloose

on Jul 09, 2009 09:02:44

How about Phil Collins of Fanny Pak?
posted by

Chace Crawford is OK

on Apr 16, 2009 05:54:40

this is so stupid! the old footloose movie was awesome and does NOT deserve to be remade! and zac efron is so not good enough to play ren! kevin bacon was and still is awesome and NOBODY can replace him!!!!!!!
posted by

OLD.footloose.fan

on Mar 23, 2009 03:53:28

Hey! i think it's great there making a remake of footloose! just be carefull not to ruin it, cuz footloose is like one of the best musicals of man kind. Zac Efron probably looks most like the main guy but he has'nt had much experience on acting as others have, but he'll do awesome!
posted by

5crazycowTess

on Mar 17, 2009 04:32:02

HI GUYS I'EM DANCEING TO YOUR SONG WE GO TOGETHER
posted by

HANNAHMONTANAN

on Nov 11, 2008 03:52:21
I feel strongly that Julianne Hough from Dancing with the Stars, should be considered for the staring female role in the new Footloose.
posted by

Footloose remake wit

on Oct 25, 2008 05:53:56