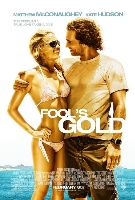 REVIEWS RATE: Critics Readers [Rate It]
Reader's Reviews
---

This movie has a much deeper meaning than most people probably see,right off-maybe I am drawning my own conclusions, based on a life of searching for something meaningful, be It treasure, glory, or self-fulfillment-It has everything that is contained in life. The struggles of the stuffy marriage of things that dont go together, but somehow work out "thier" differences...somehow..in the end....and It shows no greed(except in the dirty bunny and his cronies)In its' love for the romantic.
posted by

DaveyJownz

on Mar 31, 2009 07:38:32
I loved Donald Sutherland! I just wished he had re-united with his love of Gemma's Mom. He was left in the end with NO LOVE? He deserved love too in the end. He was charming and lovable and did not get the credit he deserved in his caring and loving character. I hope there could be a sequel to add Gemma's Mon as re-uniting as true loves.
posted by

island girl

on Mar 22, 2009 08:33:10

I thought this was a wonderful movie, beautiful locations, It is exactly what movies should be like.
posted by

Fools gold

on Dec 02, 2008 08:32:59

You people kidding me?....I didn't laugh once the whole movie. It was another typical McConaughey movie but only worst. How to lose a guy in 10 days was a great movie and actually funny this on the other hand just plain sucked.
posted by

chase

on Jun 28, 2008 00:00:00

As with the other readers, I also found this movie extremely entertaining. To me (and the group I watched it with), it had everything we expected and more. Hudson and McConaughey were fantastic together and completely believable (as they were in "How To Lose a Guy in 10 Days"). Their natural chemistry added together with the long-suffering wealthy father of a loveably ditzy wayward daughter, the rapper-gansta and his minions, crew of the yacht and other characters blended together in one of the most beautiful locations in the world and you can't help but enjoy the ride! It is exactly what movies of this genre are supposed to be - a brief escape from the stress of everyday life into a beautiful, wacky fantasy world complete with eye candy for all! Bravo!
posted by

cruisincookie

on Jun 18, 2008 00:00:00

I agree with the other comments. I believed this movie was incredible. It may not be epic and grand like most other movies that have been coming out, but I have to say that this movie was definitely worth my time. Kate Hudson and Matthew McConaughey are an excellent couple together. First in How to Lose A Guy In 10 Days and now in Fools Gold. They have excellent chemistry and I dont think that any other couple could have ever pulled it off like they did. Whoever casted for Fools Gold has my gratitude. I hope we can see them in action again soon. I also wanted to say that when i read various peoples reviews of this movie on other sites, they mostly commented on how many times Matthew appeared shirtless and how this movie was an excuse to do so. I completely disagree. Hes young, Hes hot, Hes sexy, and i Definitely dont mind spending 2 hours watching him walk around topless and tan. Overall I give this lovable little romantic comedy a 5/5
posted by

molly

on Jun 14, 2008 00:00:00

all ofyou don't know what your talking about. this was a great movie. cute. funny. great. what else do u expect out of a movie like this? two thumbs up
posted by on Apr 22, 2008 00:00:00

I thought this was a great movie!
posted by on Feb 09, 2008 00:00:00