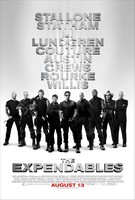 Overview
---
Genre :
Action, Adventure
Release Date :
August 17, 2010
MPAA Rating :
R
Director :
Sylvester Stallone
Starring :
Jason Statham
,
Sylvester Stallone
,
Jet Li
,
Mickey Rourke
,
Dolph Lundgren
,
Giselle Itie
,
Charisma Carpenter
,
Steve Austin
,
David Zayas
,
Randy Couture
,
Terry Crews
,
Eric Roberts
,
Bruce Willis
, Bolo Yeung, Fred Ward,
Arnold Schwarzenegger

REVIEWS RATE: Critics Readers [Rate It]
Reader's Reviews
---
dwayne bonello i really love this movie it's an action non stop movie and the actors are great in this and this movie is awsome!
posted by

dewayne bonello

on Jan 18, 2011 07:42:50

this movie is awesome and so are all the actors that made it. i recommend it what the critics say is b.
posted by

loco

on Nov 26, 2010 08:56:59

Don't care what others think I thought the idea of all these action stars together was great. Sure the story was a little out of sync but I didn't go in expecting Othello. Went in expecting great popcorn fun and that's what I got. Stallone however has not got the face for movies much anymore, Dolph Lungren once again playing a crazy villian/ex collegue of Stallone and the other guys actually looks better than he has in years. Eric Roberts is over the top he's over the top in everything. But this was a blockbuster cast Jason Statham, Jet Li, Terry Crews, Mickey Rourke, Randy Coutoure and Steve "stone cold" Austin. Cameos of Bruce Willis and ARNOLD. And I have to add that the friendships seemed authentic if you didn't like anything else about the movie it seemed as if these men were real comrads and had chemistry as a group that was fun as well as action packed. Add in the beauty of Charisma Carpenter and it was a fun ride even with the dips and dives. She is an actress who even as a woman I have always thought was amazingly beautiful getting better with age and should be among the hollywood elite actresses. She's talented and gorgeous why isn't she getting roles that continue to go to Bullock, Roberts, and a few others that have been major bombs. Although she isn't new blood per say it's time for Hollywood to stand up and take notice although her character stood well with Statham's and they looked great together. Sexy and with great chemistry. I like most of these actors and I know a few of them are out of the game mostly but to be in shape enough to do this movie was a big wake up call to anyone who thinks life ends at 40 stallone over 50, Bruce Willis also up there and of course Arnold although his appearance was brief.
posted by

Acheron

on Sep 04, 2010 08:33:42

Loved it cannot wait to get it on dvd!
posted by

charmed_6719

on Aug 30, 2010 02:14:23

i love the movie , there was great fast killings and moves.
posted by

_

on Aug 24, 2010 06:34:51

I Love Sylverter and all the stars in the movie like Jason, like Bruce, you guys Rock! excellent work, muy bueno!
posted by

Iliana your FAN

on Aug 23, 2010 09:39:03

i've watched this movie twice in theatre, and still want to watch it again and again.. absolutely turns the audience on! especially the handsome lee christmas, the knife holder..bravo!
posted by

fauziah

on Aug 21, 2010 05:10:19

Definately worth watching. Take the kids too. 3 stars from the critics? fck the critics. This movie is critacally good.
posted by

TheYakuzaBlack

on Aug 17, 2010 06:47:32

Love to see again and again. . . . Badluck that i m not a part of the expandables. . .
posted by

Rohan

on Aug 15, 2010 02:03:13

Best Action movie of this Year,Gowatch this Action Adrelina pumping Hardcore-Old School Action movie.
posted by

Faheem Siyal

on Aug 14, 2010 01:25:50

Best Action Movie of this year. Watch This movie online for free on E360.blog
posted by

Faheem Siyal

on Aug 14, 2010 01:24:16

Excellent movie
posted by

expendables

on Aug 13, 2010 09:05:09

Delivered as Promised!Awsome Flick might be my favorite action movie ever!
posted by

ed2win

on Aug 13, 2010 08:46:01
COLONS ARE GETTING STOMPED IN TWELVE DAYS!
posted by

PaddMadd

on Aug 01, 2010 07:51:14
FINALY ALL OF MY FAVORITE ACTORS IN ONE AWESOME FREAKIN MOVIE THAT FOR SURE WILL BE MY FAVORITE,I CANT WATE TO SEE IT.
posted by

1998jsd

on Jul 30, 2010 05:15:09
This is going to be a great movie! Just seeing these guys together in one movie will be a pleasure.
posted by

victor

on Jul 18, 2010 09:36:00
I,LOVE ALL MICKEY ROURKE AND SILVERSTER STALLIONE MOVIE'S!THIS 1 WILL BE A GREAT HIT.
posted by

t

on Jul 10, 2010 01:50:40

Seyqv7
posted by

Vdiytfkk

on Jul 14, 2009 11:37:35