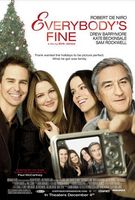 Overview
---
Genre :
Adventure, Comedy, Drama
Release Date :
December 04, 2009
MPAA Rating :
PG-13
Director :
Kirk Jones
Starring :
Robert De Niro
,
Drew Barrymore
,
Kate Beckinsale
,
Sam Rockwell
,
Katherine Moennig
,
Melissa Leo
,
James Frain
,
Ben Schwartz

REVIEWS RATE: Critics Readers [Rate It]
Reader's Reviews
---

It is a remake of an Italian film from the early 90's. Which the remake and "About Schmidt both lean on heavilly.
posted by

Jay

on Jan 23, 2011 07:15:02

I love this movie, especially its soundtrack. seems like everybody agreed with it.
posted by

arimas21

on Jan 18, 2011 12:36:17

Nice one though I think they got the idea through the Jack Nicholson movie "About Schmidt"...
posted by

William

on Sep 22, 2010 06:07:56

Loved this movie! Searching for a song that played in one of the transitions -- truly beautiful, about the morning. Anyone know what I'm talking about? Thanks in advance!!
posted by

Hello!!

on Sep 18, 2010 07:49:05
i cried for this movie....
posted by

bubblez

on May 03, 2010 10:36:53

The song at the beginning is Perry Como's Catch a Falling Star. The Badly Drawn Boy song is called The Times of Times.
posted by

koko

on Apr 01, 2010 07:52:43

it´s very good
posted by

mr. t

on Mar 31, 2010 05:35:00

i can't find any sort of listing of the songs in the movie and there was one around the middle that I thought was steve malkmus. why don't they list these songs anywhere??
posted by

cooper

on Mar 22, 2010 08:30:38

It's a good movie that will made you realize what really matters as a family to live life to the fullest and to build a strong bonding that will keep a solid foundation of family ties.
posted by

Carpe Diem

on Mar 18, 2010 03:01:04

Hi geoff, from the sound of the singer i think its I Am Kloot, not sure though as i cant find a single listing for the actual songs, Badly Drawn Boy was definitely featured too
posted by

kieran

on Mar 17, 2010 09:36:45

just want to know what is the title of the song on the start of this movie?thanks in advance..
posted by

geoff

on Mar 15, 2010 05:16:18

I just saw it, first I thought that it was a stupid comedy like Robert de Niro used to play in kinda' movie, but I enjoyed it much more like a drama, it's actually sad how many lives are same as this.
posted by

Sophie

on Feb 06, 2010 10:21:50

GREAT MOVIE!! i cry too much!!
posted by

betsy

on Jan 07, 2010 06:09:46

very moving, but don't set yourself up for a comedy. i did, and once i adjusted to the serious drama, I was moved --- to the point of crying. go see it, just don't watch trailers b4hand
posted by

bochica

on Dec 06, 2009 05:17:11

Saw it last evening. Thoroughly enjoyed it. Wonderful cast! It's not a comedy!
posted by

everybody\'s fine

on Dec 05, 2009 10:36:50
Great cast, great acting, but most depressing movie EVER! Sobbed and sobbed!! Be Warned!
posted by

JFa

on Dec 05, 2009 08:30:13
What's with that photo? That's not for that movie.
posted by

damn300

on Aug 29, 2009 08:16:03

uP9UlU
posted by

Wqlqqyrb

on Jul 15, 2009 09:29:18

my god!!!kate moenning!!!!XD i love her!! i cant wait to see this movier!! porfavor que se estrene rapido:P!! hehehe
posted by

flor

on Mar 25, 2009 05:53:00

looks fantastic. cant wait to see it. a fabulous cast.
posted by

everybodys fine

on Aug 29, 2008 00:00:00