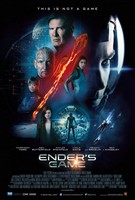 Overview
---
Genre :
Sci-Fi, Action, Drama
Release Date :
November 01, 2013
MPAA Rating :
PG-13
Director :
Gavin Hood
Starring :
Asa Butterfield
,
Harrison Ford
,
Ben Kingsley
,
Hailee Steinfeld
,
Abigail Breslin
,
Viola Davis
,
Moises Arias
, Jimmy Jax Pinchak, Suraj Parthasarathy, Aramis Knight, Conor Carroll, Khylin Rhambo

REVIEWS RATE: Critics Readers [Rate It]
Reader's Reviews
---

excellent
posted by

mukoko

on May 02, 2014 02:07:00

Doesn't do the book any justice.
posted by

John

on Feb 12, 2014 01:18:48
ENDER'SGAME
posted by

350318141396

on Jul 22, 2013 08:39:39
Who is playing bean?????
posted by

oeskdjna[weofi;g

on Oct 01, 2012 08:47:54
MAKE THE MOVIE ALREADY even if they cant find a kid to play the part they can still make it into some kind of anamated movie AVATAR was a great example to what we can do with movies MAKE THE MOVIE ALREADY
posted by

nappy

on May 12, 2010 10:38:07
I read the books and I've been anticipating the movie since! Ender's Game is so crazy! The movie needs to be released in 2011! >.<
posted by

Andria

on Mar 05, 2010 11:56:09

I;m trying to remember wasn't there a teaser trailer for this a already a couple years ago? I can't find it anywhere.
posted by

Bmath

on Oct 02, 2009 02:45:58

I am confident that this upcoming movie will give me a rock hard erection however there is no availible poster for me to masterbate to i think that if the movie were to come out in 2011 they would have released more information let alone a poster for god's sake however if you want a great read sit down with a cup of warm yea and read Orson Scott Card's masterpeice Ender's Game
posted by

cfhan4rchyinc

on Aug 28, 2009 03:22:28

MAKE THE MOVIE ALREADY I HAVE BEEN WAITING FOR YEARS PLEASE IM BEGGING YOU MAKE THE MOIVE
posted by

dj.ashe@hotmail.com

on Apr 25, 2009 09:19:55
They'll ruin it. The pull another Anikin Skywalker and make the movie all politcally correct.
posted by

jake0450

on Mar 19, 2009 04:23:28

ahh man, the main character is a little six year old. I don't think there's any kid actor that's even remotely up for the challenge. they better pull some sort of miracle here if they want to successfully capture Ender. I really-really hope they don't ruin it....
posted by

Jb88

on Oct 03, 2008 08:12:46

this movie will be vary whell backt up by the fans and there is lots of them people have wanted one since a cuple years ago when they said there would be a movie this movie could make or brake everyone making it. good cast=make bad cast=brake
posted by

thekid

on Jul 18, 2008 00:00:00

This is an incredible book! if you like sci-fi, this book is for you!!
posted by on Mar 06, 2007 00:00:00