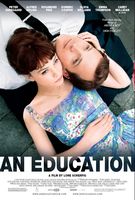 Overview
---
Genre :
Drama
Release Date :
October 09, 2009 (Limited)
MPAA Rating :
PG-13
Director :
Lone Scherfig
Starring :
Carey Mulligan
,
Peter Sarsgaard
,
Dominic Cooper
,
Emma Thompson
,
Alfred Molina
,
Rosamund Pike
,
Olivia Williams
,
Sally Hawkins
, Matthew Beard, Cara Seymour

REVIEWS RATE: Critics Readers [Rate It]
Reader's Reviews
---

REALLY REALLY EXCELLENT. me fascino. hace mucho no disfrutaba de buenas actuaciones.
posted by

Lelybeat

on Jun 08, 2013 04:35:58

Nice and refreshing
posted by

An education

on Apr 24, 2012 05:01:46

Good point. I hadn't tohuhgt about it quite that way. :)
posted by

Jodecy

on Apr 24, 2011 11:11:39

i have been downloading all the songs mi sis thinks i am weird cos of it, its so classy and i love evry bit
posted by

raerae

on Oct 28, 2010 04:39:05

Loved the music! :D
posted by

Norway

on Sep 22, 2010 06:56:42

cool moovie, cool soundtrack
posted by

me4iks

on Aug 30, 2010 06:28:07

.. and the music, songs - wow..
posted by

Julia

on Jun 05, 2010 02:04:26

Best film i have ever seen.. So warm, cousy and nice!
posted by

Julia

on Jun 05, 2010 02:03:29

THIS MOVIE HAD ALL AROUND GREAT PERFORMANCES, WELL WRITTEN STORYLINE,WARDROBE AND MUSIC.
posted by

LEXELLE

on May 31, 2010 09:08:35

A lovely film and music
posted by

kirsten grande

on May 29, 2010 07:35:03

LOVED IT!!!!!
posted by

AN EDUCATION

on May 27, 2010 12:11:47

I think this was a sweet and sour film, which I love. It didn't attempt to find the happy ending of a story, but just the appropriate one. Jenny wanted the fun life of a party girl, but settled for what was in the end her only realy option. As far as the Jewish themes, come on people, this wasn't anti-semetic in the least. It was the times. That's just how some people were. If there's an american film that talks about African Americans doesn't mean the whole movie is about slavery. jeez! get a grip and realize everything isn't about you!
posted by

jenny-another one

on May 17, 2010 10:28:03

Ithought the writing a bit heavy-handed at times. I'd to read the original story. Does anyone have the name of the author? And I want to know the title of the first song in the movie, when they're doing the montage of the schoolgirls. It's an old, '60s instrumental.
posted by

slgarretson

on May 13, 2010 07:52:34

So boring! Snore fest, cannot believe it was nominated for awards. Unoriginal!
posted by

mee

on Apr 24, 2010 05:21:09

Great movie! Bottom line is women are emotionally dumb and men are cowards.
posted by

Alina

on Apr 16, 2010 08:00:33

Really great film. Carey Mulligan is a great young actress.
posted by

Bea

on Apr 12, 2010 08:44:57

Nice movie and I think the important thing that makes it interesting is the truth of how much we are left without proper guidance when we need it most.
posted by

AA

on Apr 11, 2010 09:07:43

Its absolutely beautiful, it captures the essence of pure love with its downfalls. I think it deserved an award for certain. Its lovely and memorable.
posted by

Vanessa

on Mar 27, 2010 08:06:59

Well done
posted by

an education

on Mar 06, 2010 10:25:11

I really enjoyed it. For those who are accusing it of anti-semitism, it is based on true events. The real 'David' (Simon in the memoir) was Jewish. Were they supposed to change this fact to avoid offending people?
posted by

lolaclare

on Mar 06, 2010 06:51:51

The movie was good, but its lasting contributions to my life will be "Smoke Without Fire" by Duffy and "Your Heart Is As Black As Night" by Melody Gardot, which are two songs that have swept me off my feet.
posted by

773SleepyHollow

on Mar 06, 2010 02:36:43

I really enjoyed it! For all the naysayers: it was based on true events...
posted by

JP

on Mar 02, 2010 11:04:36

I loved this movie and it's sound track. I have to go find it.
posted by

an education

on Mar 01, 2010 12:12:51

Old story retold No originality
posted by

An Education

on Feb 23, 2010 02:26:07

From the very start, this movie portrayed jewish people in a very unflattering manor. The storyline had nothing to do with religion.The only purpose of having the character jewish, was for the author to portray his anti semitic feeling. SHAME ON YOU !
posted by

An Education

on Feb 21, 2010 07:35:27

Loved it, did not want it to end! Beautifully done, great acting cannot wait for the soundtrack ;)
posted by

Jm

on Feb 17, 2010 12:10:14

Honestly one of the best movies I've had the good luck to see in a while. A great coming of age, I suggest it to anyone.
posted by

movied

on Feb 13, 2010 10:07:07

This movie tends to promote false stereotyping of Jews and anti-Semitic feelings. The movie is not only about David's character as such. It constantly reminds the viewer that it was a Jew who was blatantly dishonest, and who tried hard to seduce a young and brilliant English girl. David's portrait combined with the attitude and comments of Jenny's father and the "educational" lesson given to Jenny by her school official leave little doubt about the objectives of this less than innocent "masterpiece." Shame on all responsible for its production!
posted by

viewer

on Feb 10, 2010 03:20:49

Absolutely, positively one of the best movies I have seen in a long, long time. The story itself, characters, and the music throughout was screaming Oscar, Oscar, Oscar!
posted by

ro

on Feb 08, 2010 05:08:21

Performance of main actress is outstanding! Soundtrack is excellent!
posted by

Amelie

on Jan 27, 2010 05:59:11
the name of the song in the end of the movie is: smoke without fire(duffy)
posted by

belu

on Jan 24, 2010 08:27:06

Found it difficult to believe that parents who wanted their 16 year old to do well in school so she'd be accepted into Oxford would let her go off with an older man - made the whole movie ridiculous.
posted by

justine

on Jan 24, 2010 08:12:29

Awesome movie that is for sure! Loved it! Woohoo!
posted by

Grizz

on Jan 08, 2010 01:26:02

DONT THINK ABOUT IT!........JUST GIVE IT AN ACADEMY AWARD........
posted by

an education

on Dec 31, 2009 12:50:50
what is the name of the end credit song, amazing track.
posted by

kraig

on Dec 26, 2009 03:32:54

This is the best movie I have seen all year..just outstanding..a great love story. I saw it twice and ordered the book, and want the music!!
posted by

RMartty

on Dec 05, 2009 11:23:07

Dialouge Great, Actors fantastic, Wardrobe Great, Music - AWESOME!
posted by

Saffronia

on Dec 04, 2009 11:08:48

Fascinating, but rather unsettling in terms of the parents' reaction (or rather, lack thereof) to their teenage daughter's affair with a much older man.
posted by

Robin

on Nov 30, 2009 10:28:10

Wow what a sensual movie! I could not imagine that movies like this were still able to be made! Of course the story is your old classic young girl older man, but it is a tender love and a change of violence and sex on the screen. Good message for women out there! Love is beautiful, but education is your best friend!
posted by

tetemia

on Nov 15, 2009 12:40:32

Where can I find the music from the film please?
posted by

an education

on Nov 14, 2009 03:14:40

Wish to see it again, exceeding my expectations. Can relate so much...Brilliant!!! x
posted by

Sarah

on Nov 12, 2009 10:51:12

I loved it, every minute. I'm going to see it again tomorrow.
posted by

lola

on Nov 12, 2009 01:27:51

I loved it, every minute. I'm going to see it again tomorrow.
posted by

lola

on Nov 12, 2009 01:27:41

Beautiful... blisfully english... loved Olivia Williams (I met her through friends).
posted by

Leicester sq

on Nov 10, 2009 04:39:15

music in the movie is something amazing and actors too.. loved it:)
posted by

An eDUCATION<3

on Nov 09, 2009 06:21:05

old topic - creepy old guy hitting on a young beautiful innocent girl What's the big attraction!!!
posted by

An Education

on Nov 04, 2009 04:05:14

Terrific story line and sound track. Worthy of a second viewing to pick up on the nuances.
posted by

An Education

on Oct 17, 2009 08:50:09

so many complex and fascinating issues being examined!
posted by

An Education

on Oct 11, 2009 11:44:41

A really absorbing film ... excellent
posted by

An Education

on Oct 08, 2009 04:10:34

Fantastic - one the best movies I've ever seen.
posted by

\'An Education\'

on Sep 20, 2009 01:51:53