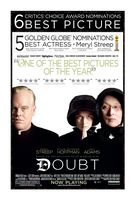 REVIEWS RATE: Critics Readers [Rate It]
Reader's Reviews
---

zw9GdU
posted by

Udgdapde

on Jul 14, 2009 12:50:07

Tljjpr
posted by

Cvjjwyzl

on Jul 14, 2009 04:34:24

just finished seeing the movie. I don't kow when I have been so moved by the message this movie present to me. It should be required viewing by everyone. Perhaps if we all followed the message of the pillow and the feathers, we3 would all think twice before we unconsciously gossiped.L Greene, Hurst, Texas
posted by

DOUBT

on Jan 31, 2009 10:01:51

Absolutely riveting--story and acting! You could hear a pin drop in the audience and feel its impact on the audience. A sure winner that should be publicized a lot more. D. Manus, Westport, Ct.
posted by

doubt

on Jan 12, 2009 12:56:03

wonderful thought provoking film. excellent screenplay- acting!!
posted by

gospel preacher

on Jan 11, 2009 06:24:04
Thought provoking,sad, sometimes funny - as a product of parochial school education in the 60's easy to relate. I enjoyed this movie.
posted by

loews

on Jan 10, 2009 08:38:04

this movie is confusing and at times so fustrating becuase you really don't know whats going on..... you can jump to a conclusion but each time you think you know whats going on, you are convinced that its something else.... in the end i left the theater thinking... what was that movie about?
posted by

no_doubt

on Jan 05, 2009 11:42:41
No premise is more unlikely than this one!
posted by

Amanda Wonders

on Jan 03, 2009 09:12:27

This thought provoking movie blrew us away. After the screening, the entire audience just sat quietly for a time before leaving. What a great experience.
posted by

Doubt

on Jan 02, 2009 11:18:49

A master piece!
posted by

Doubt

on Dec 28, 2008 11:51:12

very thought-provoking with top-notch acting
posted by

plr

on Dec 26, 2008 09:15:29

I am in this movie as a prinicpal/featured background role as a student in Sister James class. It will be a great movie!
posted by

ariana

on Oct 13, 2008 08:44:27

Iam playing the role of sister james in paducah ky at the market house theatre. I love this script because it lets your imagination go wild with what is really going on and when it's all said and done the verdict is what ever you want it to be. In my eyes I think he is innocent. But I guess thats why I landed the role of sister james the innocent one lol!
posted by

jennifer carder

on Sep 27, 2008 03:35:38