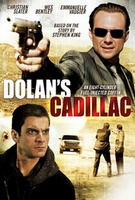 Overview
---
Genre
Thriller

Release Date
September 17, 2009 (Oldenburg FF)

MPAA Rating
R

Duration
89 min.

Production Budget
$10 millions

Studio
Film Bridge International


Cast and Crew
---
Director
Jeff Beesley
Producer
Ellen S. Wander
Screenwriter
Richard Dooling
Starring
Story
---
Based on Stephen King's eponymous short story, Dolan's Cadillac is a dark tale of murderous and unrepentant revenge. A modern twist on the Edgar Allan Poe classic 'The Cask of Amontillado,' Dolan's Cadillac proves that revenge really is a dish best served cold.
Robinson is a non-descript middle school teacher whose beloved wife, Elizabeth, witnesses an execution in the desert and becomes a target for the executioner, notorious Las Vegas crime boss Jimmy Dolan. Dolan's vast wealth was accumulated through his human trafficking operation, a lucrative business he will not jeopardize.
The mobster succeeds in having Elizabeth killed before she can testify against him. Without a witness to the murders, Dolan goes free.
The Knowledge that Dolan is behind Elizabeth's death fosters in Robinson an insatiable thirst for revenge. However, Dolan is virtually untouchable traveling only in his custom Cadillac with tank-like protection.
On a steep descent into madness, Robinson begins seeing visions of his dead wife wherever he goes. Spurred on by Elizabeth's spectre, Robinson begins his elaborate plan to kill Jimmy Dolan.
The Cadillac that was once his armor may now become his tomb.
This is vengeance, Stephen King style.