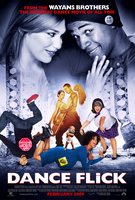 Overview
---
Genre :
Comedy, Action
Release Date :
May 22, 2009
MPAA Rating :
PG-13
Director :
Damien Wayans
Starring :
Damon Wayans Jr.
,
Shoshana Bush
, Shawn Wayans,
Marlon Wayans
,
Amy Sedaris
,
Essence Atkins
, Keenen Ivory Wayans, David Alan Grier, Chris Elliott

REVIEWS RATE: Critics Readers [Rate It]
Reader's Reviews
---

Very funny movie I like it but n a way it waz kinda stupid......
posted by

Bebe

on Nov 20, 2010 04:01:07

I love any movie with the Wayans brother in it. Expecely Shawn and Marlon cuz i think they r cute.
posted by

spunkyonyx

on Aug 14, 2010 02:02:58
I´d like to know the name of music, when they arrive in club and start down stairs. If you know, post here. Please.
posted by

Marcio P Bastos

on Jun 28, 2010 06:18:41

the songs in the movie that i knew is: #Maniac-Michael Sembello #Flightless Bird American Mouth-Iron&Wine #The Way I Are-Timbaland ft. Keri Hilson, DOE, Sebastian #Shawty Get Loose-Lil Mama ft Chris Brown T-Pain #Forever-Chris Brown thats all :D hope it helps.byee~
posted by

sys :)

on May 29, 2010 02:15:04

does anyone know the title of the song when they are dancing on rollers ?? or a way to find it please
posted by

dirim

on Apr 27, 2010 05:01:43

what's the name of the song when he pratice in jazz suit with the girl ??
posted by

fred

on Apr 14, 2010 03:53:20

hey whats te title song which says the guy in the club that its hes favorit when he ask the girl to dance??
posted by

onnaaa

on Dec 11, 2009 02:42:30

o.m.g r u kidding me is the best movie ever im a big fan of it its just so funny ilove it!!!!! it been the best movie in the whole wide world!!!!
posted by

samantha cisneros

on Oct 23, 2009 03:41:04

half bad. half hilarious. if you just wanna laugh, check it out.
posted by

rdog

on Oct 15, 2009 10:53:36

Hi, does someone know the name of the song at the beginning of the movie (when you see paramount) Thank you! :) BTW THIS MOVIE IS GREAT XD
posted by

FlameInside

on Oct 10, 2009 11:51:21

it´s in the end when they are dancing a battle
posted by

dil

on Sep 13, 2009 10:50:21
i search a song its singing a girl and i cnat find it:(
posted by

dil

on Sep 13, 2009 10:49:18

wow this movie was okay but other than that it was really stupid
posted by

blah

on Sep 12, 2009 02:18:14

Someone know the name of the song, that the fat man dance with the red suit
posted by

Mandu

on Sep 08, 2009 02:20:15

funny, but they tried to hard on doing it.
posted by

junie

on Sep 06, 2009 07:44:04

it was ridiculously stupid i was laughing cuz i was embarrassed for the actors of the movie i wont deny that it had some fresh jokes but its not a movie worth baying money for. my advise to all of u who want to waste an hour and a half of their lives is to download it online or to wait untill its on tv..
posted by

P21

on Aug 31, 2009 02:48:39

i really like it but yall stole this from the last dance yall should be ashamed
posted by

dymond cruz

on Jul 18, 2009 01:27:50

kj8brj
posted by

Gzzyosvk

on Jul 13, 2009 04:17:26

It seems like they are trying to make a funny Step Up 2.
posted by

Makayla

on Jun 17, 2009 05:31:09

sooooo funnny love the ending ahahha
posted by

eliza

on Jun 04, 2009 07:33:08

very funny!
posted by

Kiana

on Jun 01, 2009 05:05:26

awesome movie
posted by

joe m.

on May 31, 2009 05:22:25

best movie ever!
posted by

little foot<3

on May 31, 2009 02:49:09
stupidest effin movie i've ever seen. Me & my friendss left after 20 minutes
posted by

meg

on May 30, 2009 09:00:30

it was okay. the preview was cool, but if you actually watch the movie, it wasn't so worth it.
posted by

shinhbang

on May 30, 2009 02:54:55

the previews gave away all the good parts. nothing else was really funny unless you like stupidity. it was really dumb. and the actors suck!
posted by

k-dog

on May 29, 2009 10:19:55

this s**t is extra f****ing funny two mutha fu**ing thumbs up lmfao lolz
posted by

dat boyz a bean

on May 28, 2009 09:02:12

this movie was stupid all yall who say this movie was nice, cool, tight, wicked and what ever is some dumb assz because this movie was wackkkk
posted by

Gggg

on May 28, 2009 08:04:04

i like it but it is kind of retarted and it just was rong and there was hot girls the part that i like is when the boy picked up the baby ad said i will come back next week and pick him up
posted by

cman22

on May 26, 2009 03:34:32

funny. but the ending was horrible.
posted by

kim

on May 25, 2009 09:21:20
this movie was fucking retarded!!!
posted by

x0Sancha

on May 25, 2009 01:04:34

They tried way to hard to make this movie funny, and it shows. A few parts where funny, but I do mean, a very few. I was dissapointed because the previews made it looks like it would be a funny movie, but it sucked.
posted by

Libby

on May 25, 2009 01:01:20

i can't wait to see it
posted by

chicken

on May 24, 2009 11:16:40

Haha this was the funniest movie I have ever seen in my whole entire life!!!!!!!!!!!!!!!
posted by

Julie35811

on May 24, 2009 09:29:22

this movie sukedd...there were some good parts but overall it was just another dum movie making fun of other good ones. dont watch it.lol
posted by

lola

on May 23, 2009 09:39:13

THE MOVIE WAS HILARIOUSSS!
posted by

BOSS

on May 23, 2009 08:17:09

This is a great Movie. Me and 4 of my friendz went to go see this friday nightand could not stoplaughing. My favorite scene is when they turn the main the white girl black! lmao! Very Funny!
posted by

k3k3

on May 23, 2009 06:54:11

really bad. looked awesome in the previews but straight up dumb
posted by

geeb93

on May 23, 2009 05:57:24

I can't wait to see this. Me and my friend Katelyn are going to see it in two days, which is when it is comming out in theaters. OMG!!!! I am super de duper excited!!!!!!!!
posted by

Giannax0l

on May 20, 2009 05:16:45

this movie is awesome cant wait to see it.
posted by

mel

on Apr 09, 2009 03:42:46

FUNNY!!!!!!!!
posted by

Rob

on Nov 26, 2008 02:08:41