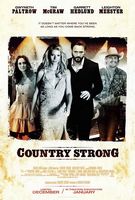 REVIEWS RATE: Critics Readers [Rate It]
Reader's Reviews
---

Great film with some of my favourite actors.
posted by

Country strong

on Jan 06, 2014 07:56:21

MOVIE WAS AMAZING
posted by

country strong

on Aug 03, 2011 02:15:06

Movie was great but sound track i was anoyed with Faith Hill shouldnt of sang Give in to me pluse i thought it was a duet...hum should have been Leighton singing it.
posted by

Hakert

on Apr 29, 2011 07:58:53

Loved it and the soundtracks were amazingggggggggg
posted by

movie freak

on Apr 09, 2011 12:03:39

Movie was very good !! n the country life story as well as music touched my heart strings !!! Garrett did an awesome job on "Give In To Me"!!! Much better than Faith !!!
posted by

RodeoMom

on Jan 28, 2011 01:12:09

LA VERDAD GWYNWTH Y GARRETT SON DE LOS MEJORES ACTORES DE NUESTRA ERA Y SUIGANME EN TWITTER @estevejustin XFAVOR SII Y NO DE VER LA MOVIE Y APOYEN A LOS ACTORES EEEEEEEE
posted by

JUSTINDH

on Jan 23, 2011 05:19:49

LA VERDAD GWYNETH Y GARRETT TIENEN VOZ DE ANGEL OJALA Y SAQUEN UN DISCO YO LO COMPRARIA E IRIA A SUS CONCIERTOS
posted by

justindh

on Jan 23, 2011 05:17:03

soooo good, so heartbreaking. gives you goosebumps, if you were to go see it be prepared to cry. soundtrack and casting was great.
posted by

bouz

on Jan 19, 2011 09:28:21

I thought it was amazing, so beautiful! you will not be disappointed!
posted by

BayMan

on Jan 11, 2011 09:42:23

I was absolutely stunned by Garrett's voice, if he was to have his own singing album, I would definitely buy it. The movie was great, lots of great chemistry between Garrett and leighton, a little disapointed in Tim and Paltrow's chemistry but still a must see.
posted by

country strong

on Jan 09, 2011 11:43:35

it was an awesome movie!
posted by

vanessa Zepeda

on Jan 07, 2011 10:53:56
Garrett Hedlund's singing of Give In To Me is much better than Faith Hill's. Its too bad they didn't put him on the soundtrack, his voice is truly amazing.
posted by

Sideways

on Jan 06, 2011 10:41:17
Oh - and the romantic scenes were pretty tame between Tim and Gwyneth. But their marriage was in trouble so it would have been weird to see a lot of that. They do have chemistry together!
posted by

Kay33

on Sep 10, 2010 12:25:51
Saw a recent test screening (after the 15th btw) and it was so good! I'm not a country fan but I totally want the soundtrack. And Garrett is a real rising star! He is like a young Brad Pitt. Wow - every woman there was talking about him. Men too. :)
posted by

Kay33

on Sep 10, 2010 12:23:52
Anyone know what the romantic scenes are like from Tim & Gwyenth?
posted by

Theresa

on Sep 02, 2010 09:54:08
Can't wait for this, hear Paltrow and Mcgraw are great and love me some Jeremy Childs.
posted by

Lydia

on Aug 31, 2010 11:42:33
I can't wait to see this movie, I know it will be good. There's always trolls on site to give negative reviews, esp. to sign in anonymous!! must be special to have already seen the movie.
posted by

Jackie

on Aug 19, 2010 07:45:09
saw it recently. Definitely needs to go back to the editing dept. Hopefully it will be much better when it is officially released, because right now, I would give it a 1 out of 10 and a two thumbs down.
posted by

anonymous

on Aug 15, 2010 09:03:11
I'm so gonna see this! Garrett is awesome! <3
posted by

Jessica

on Aug 04, 2010 01:11:14
I think Paltrow and McGraw are a perfect match for a great country movie like COUNTRY STRONG.. can't wait to see this movie in December... Song COUNTRY STRONG was written by Mark Nesler
posted by

Doris

on Jul 28, 2010 11:45:17
I can't wait to see this movie. I just love Tim McGraw, he's not only a awesome singer, but great actor!!
posted by

Jackie

on Jul 28, 2010 09:27:11
Cant wait to see this movie tim Mcgraw is a good actor, and I love to hear him sing, I know this movie and song will be a hit written my Mark Nesler.
posted by

Betty

on Jul 20, 2010 10:45:15
song written by Mark Nesler Good movie great country music
posted by

country strong

on Jul 04, 2010 07:34:10
I had a small role in this movie and Garrett and Tim were so sweet.
posted by

LaQuita

on May 28, 2010 11:55:17
Would LOVE to know the MINUTE there's a release date! Really looking forward to seeing this film!
posted by

Page

on Apr 06, 2010 07:48:21
can't wait, i love garrett.
posted by

mckenzie.

on Mar 19, 2010 11:46:26
I really want to see it! Garrett is SO awesome! <3
posted by

genevieve

on Mar 19, 2010 03:33:39