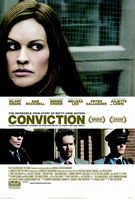 Overview
---
Genre :
Drama
Release Date :
October 15, 2010 (Limited)
MPAA Rating :
R
Director :
Tony Goldwyn
Starring :
Hilary Swank
,
Sam Rockwell
,
Minnie Driver
,
Melissa Leo
,
Juliette Lewis
,
Peter Gallagher
,
Bailee Madison
,
Clea DuVall
,
Ari Graynor
, Loren Dean, Rachel Scott, Michael Liu, Matt Hollerbach

REVIEWS RATE: Critics Readers [Rate It]
Reader's Reviews
---
This is my family..thank you to the people who are positive about this. It was a shame this woman died.God bless her and her family. It is a horrible thing that happened to her, and I wish the rest of her family the best of luck in cracking this case. I hope they are doing well and wish them the best of luck. Now we can all talk trash if we want, but lets be adults. My uncle was innocent and DNA proved that. Say what you may, but DNA is a real source of information, and it doesn't lie. Maybe Kenny, wasn't always a good guy and Im sure he had faults, but he was also a victim in this case. In fact my aunt Betty Anne is still working on the case, tyring to locate the real killer. It didn't stop when Kenny was cleared, she is still working very hard. I thinks it's wonderful the movie is going to open eyes and minds. The legal system doesn't always work the way it should. In fact some times they really suck. I feel if the shoe fits wear it. If people can't handle the truth that Kenny wasn't the killer, I feel sorry that you are living with that. Look into things do your math and you might feel better about DNA and how truthful it is. This story is not the frist of it's kind and won't be the last. I know pepole are angry, but this happens all the time.Focus on the real killer who is in fact walking around. Imagine being angry and feeling hate your whole life towards one person and it's the wrong one. The movie is great and good luck to the extras. I hope you enjoyed your time. It is a wonderful thing and don't let anyone take it away from you. Again god bless that family, I'am very sorry and hope you all get the peace of mind you deserve. God bless. the movie, the money, the book..that is ok but the real important issue is innocent people are going to jail and the real killer gets to walk away. That is scarey to me..He could be your neighbor.
posted by

I\'am a Waters famil

on May 06, 2010 01:14:18
@ BABA,don't get upset over the fact you have never been in anything important your whole life. If you need a hug that is fine..maybe we can find somenone to help you out..sorry that family won 14.4 million..haha and a movie..and they have people like you, so pissed off just because..thank god that lday was killed or else there would be no story..so take that..oh and the joke is on you..I was an extra and guess what..I'm shooting a pilot now because of that movie..thank god for that 5 seconds of fame..now it has truned into 150,000 thousand a show..take that to the bank..I know I will....
posted by

more then you know

on May 04, 2010 08:30:33
it looks too me like we have a lot of trash talkers that dont no what their talking about,maybe yous like getting beat ...get help.and 4 the extras get a life what its it a 5 second shot .laughing my azz off at u all.people that dont know anything do talk trash like yous lmao
posted by

baba

on Apr 22, 2010 04:28:19

I think this movie is going to be awesome. I was an extra in one part of the movie, and the cast is outstanding!! The did an excellent job on the casting and locations. I cannot wait to see it on the big screen!!
posted by

extra

on Oct 24, 2009 03:33:53

I think this movie wil be great, it has a great cast of people working on it. I love these kinds of stories. I didn't give it all the stars b/c I want to see it first. The story about a sister and a brother working together to acheive this goal is wonderful. I'am sure the justice system has done this to many others. It's nice to see peolpe work hard for what they beleive in. They did it, the man was free. I give that family a lot of credit. It's the people like the fisrt one on this page that makes this story even better. DNA has come a long way. There are so many screwed up people working in the law feild ( like the first person). With DNA we can prove these lies and acheive our goals. Now that the law screwed up, these people came out winners. I read they won 3.4 million. which was well deserved and not to mention the movie. Just because people start off in life a little rough, that means nothing. Look at how that family changed, for the better. Sometimes it takes a real scare to change and the important thing is, they did. Now with all that hard work and effort I hope they can now sit back and enjoy their new life. That family is famous and i would like to met each and everyone. I will love to shake their hands and tell them what a good job they did. I guess that is why the movie will be so great. Great cast great story. Waters family god bless you all and i hope you enjoy your rewards you deserve it." Not so Bad for scammers or woman beaters"
posted by

can\'t wait to see i

on Sep 25, 2009 09:18:49
Your a loser who says that. It proves you are totally jealous. I think the story is wonderful. Who cares what the family did. NOW WE KNOW WHAT THEY DIDN'T DO, LIKE THE MURDER......I can't wait to see the movie. I'am sure it will be a hit. Like laughing at yuo said " it takes a women beater and druggie to no one". What are you hiding.
posted by

Better Then BATABING

on Sep 15, 2009 12:56:01

I HAVENT SEEN THE BETTY ANN WATERS MOVIE YET ,BUT THE SCREEN WRITERS SHOULD GET EV1 SIDE ,KENNETH WATERS WAS A MONSTER ,BUT WHILE KENNY WAS BEATING WOMAN AND GETTING IN TO THROUBLE,BETTYANN WAS THE FIRST ONE THERE TO HAVE AND BEG YOU TO DROP THE CHARGES.FUNNY BEFORE HE WENT TO PRISON NO ONE IN HIS FAMILY WANTED HIM LIVING IN THEIR HOMES!!SHE MAY HAVE WENT TO LAW SCHOOL TO FREE HIM ,WONDERFUL AND THEN SHE WONDERS WHAT HIS LIFE WOULD HAVE BEEN LIKE IF HE HAD BEEN FREE !.AHAHAHA ,TRY A WORSE DRUNK AND DRUG ADDICT LIKE THE WHOLE FAMILY WAS ALWAYS.LOOKING 4 NEW SCAMS TO GET MONEY FOR NOTHING .IM RATEING IT VERY BAD BECAUSE MOST OF IT WILL BE LIES ANYWAY.
posted by

BATABING

on Sep 03, 2009 01:42:53