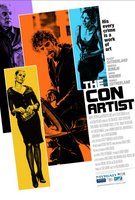 Overview
---
Genre
Romance, Comedy

Release Date
May 17, 2010 (Cannes Film Market)

Studio
Myriad Pictures


Cast and Crew
---
Director
Risa Bramon Garcia
Producer
Paul Barkin, Larissa Giroux
Screenwriter
Michael Melski, Collin Friesen
Starring
Story
---
When Vince is paroled from his five-year stint for a heist gone wrong, he finds life on the outside to be incredibly challenging. Forced back into a dangerous life of crime by his former boss Kranski, Vince is pressured with having to pay back a hefty debt for botching up the heist.
Working as a welder in Kranski's garage/chopshop, Vince finds solace in making sculptures from metal shards and found objects in his spare time. But when his brilliant sculptures are discovered by the sexy, predatory art dealer Belinda, his chance for a new life starts to change as well as his problems.
Caught between the pressure to pull off heists for Kranski and becoming the toast of the art world, Vince has to cleverly maneuver and fight his way out to become a free man and his own artist.