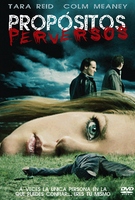 Overview
---
Genre
Drama, Thriler

Release Date
August 26, 2008 (DVD)

Duration
89 min.

Studio
Sony Pictures Entertainment


Cast and Crew
---
Director
Robert Malenfant
Producer
Manuel Corbi
Screenwriter
Jacques Haitkin, Robert Malenfant
Starring
Angus Macfadyen
Tara Reid as Julia McKay
Colm Meaney
Francesc Garrido
Lorena Bernal
Mingo Rafols
Story
---
One jealous husband. One dirty cop. And one brave woman who will fight to stay alive. This twisted murder mystery is full of surprises at every corner, as Julia McKay is thrown into a life or death struggle with men of power and greed. When Julia's husband and business partner Matt suspects her of having an affair, he begins to go mad and agrees to have her killed. Once he is informed of Julia's murder, however, Matt spirals into remorse and takes the final plunge: suicide. Or does he? It seems Matt's death might actually have been a murder, and when Julia shows up after faking her own execution, the men left in her life are now determined to finish the job.