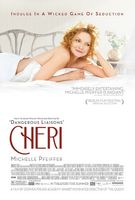 REVIEWS RATE: Critics Readers [Rate It]
Reader's Reviews
---

A truly enjoyable movie from the cast to the costumes and music. I loved everything about it and everyone in it!
posted by

LadyJ

on Nov 26, 2010 07:40:38

I really enjoyed this movie. I thought it was very interesting.
posted by

cherie

on Oct 11, 2010 09:31:46

Sorry but this movie was totally unconvincing. Their love story had very little to keep me paying attention. I would have called it presposterous liaison. It was utterly disappointing. Poor Kathy came across as such a joke. Michelle does look fantastic at 51 though.
posted by

Sibylle

on Jul 13, 2009 10:54:50

randy can be thrown to the lions now, and i wouldn't really mind and neither would Cheri. A lot of beatuy and truth was revealved quite simply and eloquently in this film, and those of us in denial will never grasp this.
posted by

lidija

on Jul 07, 2009 12:07:18
Although I loved the book, I didn't like the movie. The "décor" is great(costumes,houses,gardens etc..) but casting non french actors to play in a story talking place during "La Belle époque" was risqué. I couldn't get into the movie. I am sorry but that is the way I feel about that film. Thierry
posted by

baddaboum

on Jun 27, 2009 12:26:17

what the fuck is wrong with you randy? what the hell has the age of innocene have to do with anything? just because the setting was old? frears teamed up with pfeiffer in the late 1980s for dangerous liasons which earned michelle an oscar nominaton and great reviews internationally.. this movie is awesome.. i saw it at the berlin festival.. and i agree with anuta.. when you understand the acting of michelle pfeiffer write your opinion.. THIS MOVIE WAS AWESOME..
posted by

alex

on Mar 14, 2009 06:10:39

realy good movie and reandy when you'll understand acting then write you're opinion.Michelle Pfeiffer is gourgeus n her acting is one of the gretest ever
posted by

anuta

on Feb 27, 2009 02:47:53

cheri with michelle pfeiffer has turned out to be a bomb. frears never should of directed this and never should of had michelle play the lead. she cant play these types of characters, she destroyed the age of innocence. that movie didnt get any nominations for best picture and neither will this one!!
posted by

randy

on Feb 16, 2009 06:03:19