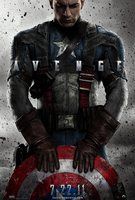 Overview
---
Genre :
Superhero, Action
Release Date :
July 22, 2011
MPAA Rating :
PG-13
Director :
Joe Johnston
Starring :
Chris Evans
,
Hayley Atwell
,
Hugo Weaving
,
Sebastian Stan
,
Toby Jones
,
Dominic Cooper
,
Tommy Lee Jones
,
Richard Armitage
,
Stanley Tucci
,
Natalie Dormer
, Neal McDonough, JJ Feild,
Derek Luke
,
Amanda Righetti
,
Samuel L. Jackson
, Kenneth Choi

REVIEWS RATE: Critics Readers Be the 1st!
Reader's Reviews
---
I Chris Evans think could do alright, as long as he doesn't do what Ryan Renolds does in every single movie he does. Crack a sarcastic remark regardless of the character he plays.
posted by

jhsueh213

on Oct 18, 2010 10:28:16
Most suited with Ted Dibiase Jr.
posted by

Ag

on Sep 15, 2010 01:17:34
Chris Evans will not be able to fill Captain America's boots, he is too small and looks too cocky, he fit's the role of the Human Torch and should not play an icon such as Captain America
posted by

nuff said

on Sep 09, 2010 03:04:34
JOHN CENA!!!!
posted by

ERC16

on Aug 03, 2010 01:43:08
sounds cool but should be in 3-d. :)
posted by

bball

on Aug 02, 2010 12:29:11
why use the Human Torch actor for Captain America? Is there an actor shortage ?
posted by

eye6

on Jul 27, 2010 02:32:39
You are all crazy, I saw a guy on you tube that has the build and uncanny resemblance to the comic. Or someone entirely new that fits the bill, brad, matt, matt, and that jensen guy c'mon give me a brake.
posted by

bucky barnes

on May 31, 2010 01:01:53
HUGO WEAVING! He must be great (as the villain) Yeah! Yeah!
posted by

Smith Anandari

on Apr 11, 2010 07:37:35
jude law is gay, and the other guys u s lot mentioned are shit too. all u guys have shit taste in the casting of the cap' hugh jackman should be cap, he was a huge mistake for wolvie though, im sure he would make a good cap' jackie earl haley should have been wolverine, fuck yeah!!! hugh fucked it up but he would be perfect for cap' after steven rogers goes through the super soldier program. now all u guys can go and get a damn life, .... ameatures!
posted by

true believer

on Mar 26, 2010 08:28:56
Jude Law should be Captain America
posted by

susan

on Feb 01, 2010 10:31:06
jensen ackles for captain america is the best option, jensen is the best
posted by

jet stingray

on Jan 30, 2010 04:19:53
Oh go shove it, if they cast anyone other than Jesen Ackles, it's a mistake. He's a wonderful actor. John Barrowman's very nice and all, not to diss him, but he's not really all-American, or as hot as Ackles.
posted by

wilson

on Aug 12, 2009 08:52:38
no i will see john cena on captain america i like john cena as captain america so the first avengre captain america in theatres 2011 see ya.
posted by

andries price

on Jun 10, 2009 01:26:27
this movie sounds awsome but idk mabye channing tatum could do it hes already in the gi joe movie y not the avengers???
posted by

jazz man

on May 27, 2009 10:46:32
None of these guys are right, they would be mistakes, including the latest rumor of John Barrowman... but I think Paul Walker could. He looks like a young all-American guy, whose grounded, but could kick butt... he's got the build, and he's known (Fast/Furious, etc) but not a superstar (which would be a negative)... the ladies would dig him too.
posted by

dhinders

on Mar 29, 2009 10:30:05
matt damon sucks, mathew mcconaghehrfigdhogdfg sucks, brad pitt sucks.You don't ruincomic book heroes with asswipe actors
posted by

ghghejeje

on Mar 16, 2009 10:13:03
Matthew McConaughey is the perfect candidate for Captain America. Any other actor would ruin the character.
posted by

jmeacham

on Feb 21, 2009 06:25:03
Those are good choices, but I think Brad Pitt could pull it off as well.
posted by

jwadd

on Nov 15, 2008 09:44:34
I THINK MATT DAMON OR MATTHEW McConaughey SHOULD PLAY THE CAPT.
posted by

bassick55

on Oct 28, 2008 08:24:52
yeah i think matt damon would be my first choice or mark wahlberg
posted by

mereck

on Oct 27, 2008 08:49:58
hey i think morgan freeman would be great!..jk lol ahahahahhaha GAG anyway....uhh i think they should bring a new actor honestly
posted by

BellyButtonBeanDip

on Oct 05, 2008 06:43:12
i say they should cast richard simmons as capt. america. Movie would about the same as a black capt america movie. yer still ruining the character
posted by

fubar

on Sep 14, 2008 05:28:01
Come on folks there is only one person who could even closely portray the Late great Steve Rogers and that is Matt Damon
posted by

Eddie Brock

on Sep 12, 2008 07:57:47
Jensen Ackles? no way Matthew McConaughey hes the man to cast. MARVEL BETTER GET THIS RIGHT.
posted by

Bucky Barnes

on Aug 24, 2008 00:00:00
Jensen Ackles for Cpatain America. Why? He's awesome, he's tough, he has an American, he has the look of the hero, he's about the right age as Steve Rogers, and he could bring some great humor to it.
posted by

Luke

on Jul 15, 2008 00:00:00
who's the damn villian
posted by

jtg576

on Jul 09, 2008 00:00:00
I will see this movie in theaters. And I will see the trailer for The Avengers when i see it.
posted by

carol Harwell

on Jul 04, 2008 00:00:00
i can't wait!
posted by

cool!

on Jun 26, 2008 00:00:00