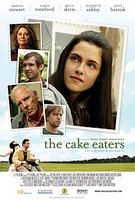 REVIEWS RATE: Critics Readers [Rate It]
Reader's Reviews
---

So well done with incredible performances by all especially Kristen Stewart which has stayed with me.
posted by

None

on May 05, 2014 09:44:05

there is a song on their date..starts when she was getting ready to ride with him.Itgoes like this- "I have been alone..soon we'll be together ..and I wait forever..for somebody to find me" Somebody plz give me any info. !!
posted by

y05

on Feb 21, 2011 12:43:11

Incidently, you guys answered a question about the song that was playing when Georgia and Beagle were riding on the scooter incorrectly on ChaCha. The actual name of the song is "Begin" by The Wailin Jennys. Hope this helps anyone that was looking.
posted by

degrbi

on Jan 31, 2011 09:37:29

kriten stewart is soooooo good in this movie i hope there will be a region two dvd released
posted by

easongirl

on Jan 09, 2010 06:14:39

LOVED IT!!!!! KRISTEN STEWART WAS AMAZING IN THIS MOVIE!!! GREAT ACTING KEEP IT UP,
posted by

missy

on Jan 02, 2010 01:05:36

I absolutely LOVE this movie!!!! Especially Kristen Stewart's acting it is soooo great!!!! I've seen every one of her movies and she is such a PHENOMINAL actor!!! Kristen Stewart does it AGAIN!!!!!!
posted by

twilightaholic

on Dec 16, 2009 06:20:51

love this film but I'm trying to find out the name of the artest singing when both georgia and bailey are on the scooter going to the motel.Help
posted by

obmark

on Dec 14, 2009 02:01:11

jOzJpz
posted by

Kvkgolsj

on Jul 15, 2009 11:07:47

Very enticing and humble movie, kristen Steward well its a hi 5, She'z such a talented actress, really liked her performance.. She blowz me off... Ny how abt her role in Twilight, speak. etc. She z in the limelight now.. Happy acting Kristen!!
posted by

Sj

on Jun 15, 2009 02:34:28

I really enjoyed the film. I agree with Jeff, in that the performance was most definitely powerful. The characters were dynamic and Kristen Stewart as Georgia was epic. An amazing portrayal of the real life issues that rise within the disease as well as the average teen.
posted by

Asshadowsdo

on May 01, 2009 10:18:28

I loved the film. Very powerful and patient. A nice humble picture with a knockout performance by Kristen Stewart. I look forward to seeing her grow and develop as an actress.
posted by

JeffEgg

on Apr 15, 2009 12:22:49