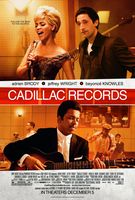 Overview
---
Genre :
Drama, Musical
Release Date :
December 05, 2008
Director :
Darnell Martin
Starring :
Adrien Brody
,
Jeffrey Wright
,
Beyonce Knowles
,
Columbus Short
,
Mos Def
,
Emmanuelle Chriqui
,
Cedric the Entertainer
,
Gabrielle Union
, Tammy Blanchard

REVIEWS RATE: Critics Readers [Rate It]
Reader's Reviews
---

FREAKIN LOVED IT!!
posted by

queenb78

on May 14, 2013 03:05:04

i love that song i will kill that song if i sing it
posted by

amber

on Nov 23, 2010 09:57:55

i like it
posted by

walter

on Oct 05, 2010 01:41:15

I thought all of the actors did a wonderful job with me I feel when I watch a movie and the actor garbs me in and make me forget who I am watching job well done because when watching this movie I honestly forgot that I was watching "B", Mos Def and everyone else so to the whole cast job well done (ancore)!!!!!
posted by

hazel

on Jan 22, 2010 01:24:58

I love all the songs that were exercised and performed in this movie...Beyonce' was great..my favorite song is All I could do was cry
posted by

LAHH

on Dec 04, 2009 02:13:42

I wanted to feel the real story of Lady Etta! She was not portrayed well here.
posted by

hotlegz

on Oct 09, 2009 11:40:30
Beyonce did a GREAT job in this performance as Etta James!
posted by

nan26

on Sep 28, 2009 08:41:45

B you did your thang girl she should be proud Etta give credit where it's due and that youngster put you back on the map stop hating people she's handling her buisness and you know it i am a beyonce fan this is true but now i'm also a etta james fan B Stay true to you people will alway's talk even when they don't have s*** worthwhile to say & remember they paid and will continue to pay to see you on screen keep doing you ! and keep giving them s***to talk about alway's a fan
posted by

tea are

on Apr 28, 2009 11:35:31

Beyonce is a outstanding performer but I think it could have been better. I personally feel that etta james has a more driven character. She's more factual and spontaneous.When beyonce plays a role it's more like drama and suspense. so when you put beyonce in a film like this. you can't mix suspense with history. when you think of history you think drama and what happen in those early ages of a person life or something. But the point of it all is that pick someone who can depict that person peronality and background. Most importsntly their character. Like christina aguilera for example I heard her version of " At last" it was really good. for the first time I think christina could have played her not because her background but figuratively speaking she dould have played her. Take a look at etta james earlier pictures even though she's a african american descendant but she does have some exotic features so does christina. so if they might think of reshaping the movie.I think christina might be a option.
posted by

ms. lady

on Dec 12, 2008 04:29:05

excellent, but sketchy
posted by

paperprince

on Dec 06, 2008 09:14:42

i was at the premiere & the movie was amazing.. she was fantastic.. i had my doubts... the music is killer!
posted by

boo

on Nov 28, 2008 09:17:22
Egh. I feel like I've seen this movie before. Wasn't it called Ray or Dreamgirls or something like that? Although I think Mos Def has great potential as an actor, I refuse to sit through another Beyonce kNowles performance.
posted by

erin

on Nov 27, 2008 09:31:18

I liked Dreamgirls and this looks like it might good too. Can't wait to see it.
posted by

a.n.

on Oct 29, 2008 12:56:34

i absoultuley loveeeee columbus short!!!!!
posted by

xxjonnydontexx

on Jul 19, 2008 00:00:00