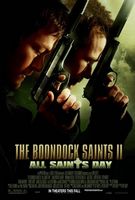 Overview
---
Genre :
Action, Crime, Drama, Thriller
Release Date :
October 30, 2009 (Limited)
MPAA Rating :
R
Director :
Troy Duffy
Starring :
Norman Reedus
,
Sean Patrick Flanery
,
Clifton Collins Jr.
,
Julie Benz
, Peter Fonda,
Billy Connolly
, David Della Rocco, Brian Mahoney, David Ferry

REVIEWS RATE: Critics Readers [Rate It]
Reader's Reviews
---

STILL HOT AS EVER!
posted by

SWEET CAROL

on Jun 08, 2010 10:15:00
Even better than the orginal. When the movie was over I was ready to watch it again. Can't wait for the 3rd one. Same cast, more brotherly love.
posted by

aaa

on Nov 14, 2009 10:21:55
didnt david della roccos character die in the first one?
posted by

confused

on Nov 01, 2009 08:52:49
OK I'M SITTING HERE ON LITTERAL PINS AND NEDDLES WANTING TO SEE THIS MOVIE. IS IT OCTOBER 30TH YET AND WHAT THE ---- DO THEY MEAN BY LIMITED!!!! IS IT NOT GOING TO BE IN INDIANAPOLIS. AAAAAHHHHHH,HURRY please
posted by

Big Lee\'s Mom

on Oct 10, 2009 10:40:47
you are all fools, it's not someone posting, its an advertisement...hence the link in it
posted by

alkfd

on Aug 19, 2009 01:13:08
so first time on the site any one who talks shit on the ppl on this site is a bigger looser than the ppl on this site. how do you say thay have no life wen your commenting about them having no life. you idiot. and boondock saints is one of the best movies ever so fuck you
posted by

thekillswitch

on Aug 09, 2009 05:55:14
I CAN'T WAIT TO SEE THIS FUCKING MOVIE!!!!!
posted by

JOHN

on Aug 01, 2009 03:59:36
the real release date is November 1st saints fan
posted by

mike

on Jul 31, 2009 03:34:33
For those of you hard up on Boondock Saints, please go out and rent "Overnight". It is also available on NetFlix. It shows what an asshole Troy Duffy is. It made me absolutely hate Boondocks after seeing it. He really is a jackass and should be put down. The first move was good, but I sold my copy once I saw this documentary on Troy Duffy and the making of Boondocks. He is a real cocksucker. Plus naming it Boondock: All Saints Day...cmon! Doesn't that sound like a shitty B movie to anyone else but me???
posted by

will pass on this

on Jul 27, 2009 06:59:34
"This movie is alsome." Can't spell and a very early review. Troy Duffy must be reviewing his movie for us. The jackass shouldn't be allowed behind a camera.
posted by

Duffy is a FAG

on Jul 27, 2009 06:52:41
I'd Imagine they're going to Release it on All Saints Day which is Nov. 1st
posted by

Frost

on Jul 27, 2009 02:17:29
Can't wait!
posted by

Chris

on Jul 23, 2009 09:00:24
There are many people in this world who are not soldiers who will stand up for the weak at any cost. That makes us saints.I pity you who are not.
posted by

McKernan

on Jul 12, 2009 09:42:52
this guy above me is one of those pussies who talks shit online cause they cant in real life lol
posted by

buckyou

on Jul 02, 2009 10:57:57
suck my balls you fucking losers!!seriously go get a job and a life!i bet the producers look at this stuff and fuckin die laughing!!u guys are really losers!i bet some body collects dragons statues !!give me a break!!you guys are really fuckin sad
posted by

yourfaggots

on Jul 02, 2009 01:36:48
you guys need to get a fucking life!!your all sad pathetic dumbasses that need to go suck a fat fuckin dick!!i hope u all die u punk ass bitches.you guys are homos!!u really are
posted by

fuckufuckinglosers

on Jul 02, 2009 01:32:29
come on!!! its so close i can taste it. the films done they could at least give us a trailer.
posted by

the funny man

on Jun 29, 2009 06:46:05
come on!!! i can't waint any more. the films done they could at least give us a trailer. I'm dying here
posted by

funny man

on Jun 29, 2009 06:44:20
release date official dec 2009
posted by

biged6601

on Jun 22, 2009 01:50:50
I hope this is the type of sequel that is simlar to the dark night, as in the first movie was godly, but the second was GOD himself in movie form. and yes, that does make sense
posted by

Schwing Daddy

on May 26, 2009 10:06:01
The first movie was amazing, I'm looking forward to the second installment, hoping that it wont completely fail as most other movies do when the sequel comes out. Even if this movie sucks, the first one will make up for that. I truly hope it lives up the the high expectations that have been laid out in front of it, but the only way to see the results will be to watch it when it comes out, might be a major hit in theaters as far as how much it pulls in but that's a given.
posted by

Let\'s just say no o

on May 24, 2009 04:51:18
does anybody know the actual release date?
posted by

saints fan

on May 13, 2009 11:01:48
First movie rocked, I hope Reedus has been working on his Irish accent because it is shocking at times in the first movie. But if the standard of writing and no-shit rhythm is maintained we should expect a quality sequel, let's just hope it is worth the wait.
posted by

iwill

on May 02, 2009 07:05:55
Can;t give it any stars yet since it's not out, but I have been hearing about all saints day for 8 years (LITERALLY) so it's about damn time. I just hope they don't stray from the original films plotline and shot style because from the dialog to the action the first movie had it all. One of my top five for sure I hope the sequal follows suit.
posted by

Rokk

on Apr 28, 2009 03:40:31
i cant wait to see the sequal
posted by

sum duded

on Apr 14, 2009 08:28:45
i havent seen this movie yet but i just have to say that if its anything like the first one then its going to be absolutely amazing....Thank you Troy Duffy for making the sequel....Sean Patrick Flanery YOUR EXTREMELY SEXY!
posted by

Sasa

on Apr 13, 2009 06:21:32
This Movie Beat Every Other Movie I Have Ever Seen. Those Who Disagree Need to See A Doctor Because you Are Insane!!!! P.S. Norman Reedus Is HOT!!!
posted by

MurphyMacmanus\'sBig

on Mar 26, 2009 09:16:58
Somebody got a little excited
posted by

squirrel boy

on Mar 16, 2009 11:38:40
wow dude wait for it to come out
posted by

deck

on Mar 01, 2009 12:56:21
The movie isn't even finished. How can you say it's alsome? lol
posted by

Umm

on Feb 07, 2009 10:19:14
ok your comment was as usefull as a cock-flavored lollipop.
posted by

heh

on Jan 06, 2009 07:37:49
This movie is alsome. I would tell everyone if they are looking for a good action movie go see this. I can watch this movie over and over again. That's how good this movie is.
posted by

that guy

on Jan 03, 2009 04:59:14