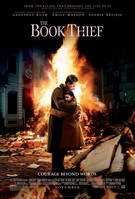 REVIEWS RATE: Critics Readers [Rate It]
Reader's Reviews
---

Amazing movie, well directed, wonderful job done by actors. One of the best movies I have ever seen
posted by

movies or books

on Jan 08, 2014 02:41:08
I loved this book so very much! I hope that they do it justice when making the movie.
posted by

MlC

on Feb 07, 2011 11:31:02
i am so excited for the movie... i had to read the book in english and i loved it... it was a bitter sweet ending though :/
posted by

ilovealex

on Jan 30, 2011 07:13:56
oh my god! i loved the book so much, i have read and re read it so many times! i really hope the film lives up to the book
posted by

Maria

on Jul 03, 2010 11:02:49
Is this real???????????????
posted by

mindy

on Apr 23, 2010 01:00:53
This is one of my favorite books!! I hope the movie captures the story as it should be....really looking forward to this!
posted by

xbuttercup18x

on Apr 18, 2010 12:19:46
I loved this book and I can't wait for it to turn into a movie, hopefully soon!
posted by

casey261

on Jan 24, 2010 02:42:56

This book was excellent! I hope the movie will meet all of the fans of Mark Zusack's books standards!
posted by

lovee

on Jun 20, 2008 00:00:00