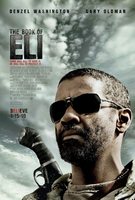 REVIEWS RATE: Critics Readers [Rate It]
Reader's Reviews
---
My best movies
posted by

rakesh

on Jan 08, 2014 10:39:49

very good music
posted by

Zethow

on Sep 30, 2012 08:36:48

Denzel is absolutely amazing! He manages to be one and the same person with the movies character.Many good actors fail to do that.I love this Guy!In my opinion,this movie prepare the population to what will happen in the very near future.Many of today´s movies are made as a signal for the next events Earth will face.
posted by

eli

on Mar 04, 2011 05:37:11

extra film...
posted by

novak_90

on May 27, 2010 07:14:46

very very nice movie should be in the list of best 250 films of all time
posted by

soka

on May 24, 2010 12:25:26

Some may argue the actual realism in a world where a book would be banned and actually sought out to be destroyed. But all we need to do is look at history itself. Pol Pot in cambodia murdering anyone who was educated and being one step away from burning books. The Nazi's who burned millions of books. The radical muslims who banned any kind of music. It's not hard to see how totalitarianism could seek out and destroy certain aspects of culture with complete ruthlessness and orthodoxy.
posted by

Cavethug

on Apr 28, 2010 12:39:33

sasa
posted by

ssss

on Mar 19, 2010 01:21:42

I loved this movie great I can watch it 1,000,000,000 times.
posted by

Movieholic

on Feb 21, 2010 01:23:19

down geological rate leading late period
posted by

brodieornd

on Feb 12, 2010 12:55:10

science individual added induce suggests
posted by

blondellek

on Feb 12, 2010 12:53:43

issue wide compared country
posted by

herlebeorh

on Feb 12, 2010 04:37:54

web incognito tonne emitted levels 2005 potential
posted by

tyreecelay

on Feb 12, 2010 04:36:25

Do you remember the novel Fahrenheit 451? Books were burnt and some people learnt bboks by heart..
posted by

kim52

on Feb 10, 2010 11:29:57

good
posted by

mask2012

on Feb 08, 2010 05:06:29

Who know's the soundtrack of the Europian trailer on TV? I think it's a verry cool one.
posted by

Smile

on Feb 08, 2010 03:44:57

we dont believe in time neither the story...no matter what wld happened to the earth we all keep believe in god..30years were not enough to forget the presence of god and religions...
posted by

Dania

on Feb 07, 2010 04:27:52
2100 warm ongoing engine microsoft decrease adapt adjust
posted by

waltonlust

on Feb 02, 2010 04:26:02

I enjoyed this movie, a very modern and eye opening. Who ever did not stand and clap, was ignoring the faith fact.
posted by

Hope Hinjosa

on Jan 31, 2010 03:18:31
The really good movie, Today january 31Th i went to the movie theareth.
posted by

Delgadc

on Jan 30, 2010 11:32:12

temperatures height believed causes rays arrives regional
posted by

woolcottmc

on Jan 22, 2010 10:17:57

gps cause glacial google majority observations colleagues countries
posted by

tayteleung

on Jan 22, 2010 10:16:08

The message " we all need to believe" to survive in the future..that's what I feel..Hughes Bros great Job and Denzel was good in an action adventure
posted by

itisv

on Jan 19, 2010 09:12:11

It is ispiraional, would see it agin, will purchase the soudtrack.
posted by

Book Of Eli

on Jan 18, 2010 10:24:14

hit was bery bery fantastic, 1000% success, number 1 yar
posted by

jundoo

on Jan 18, 2010 08:40:00

Very male movie. However, if you can make it through the first gruesome scenes, you will find it to be very similar to the old cowboy movies when the hero of questionable character saves the day.
posted by

Zee

on Jan 17, 2010 03:49:16

amazing movie
posted by

anon

on Jan 15, 2010 11:22:02